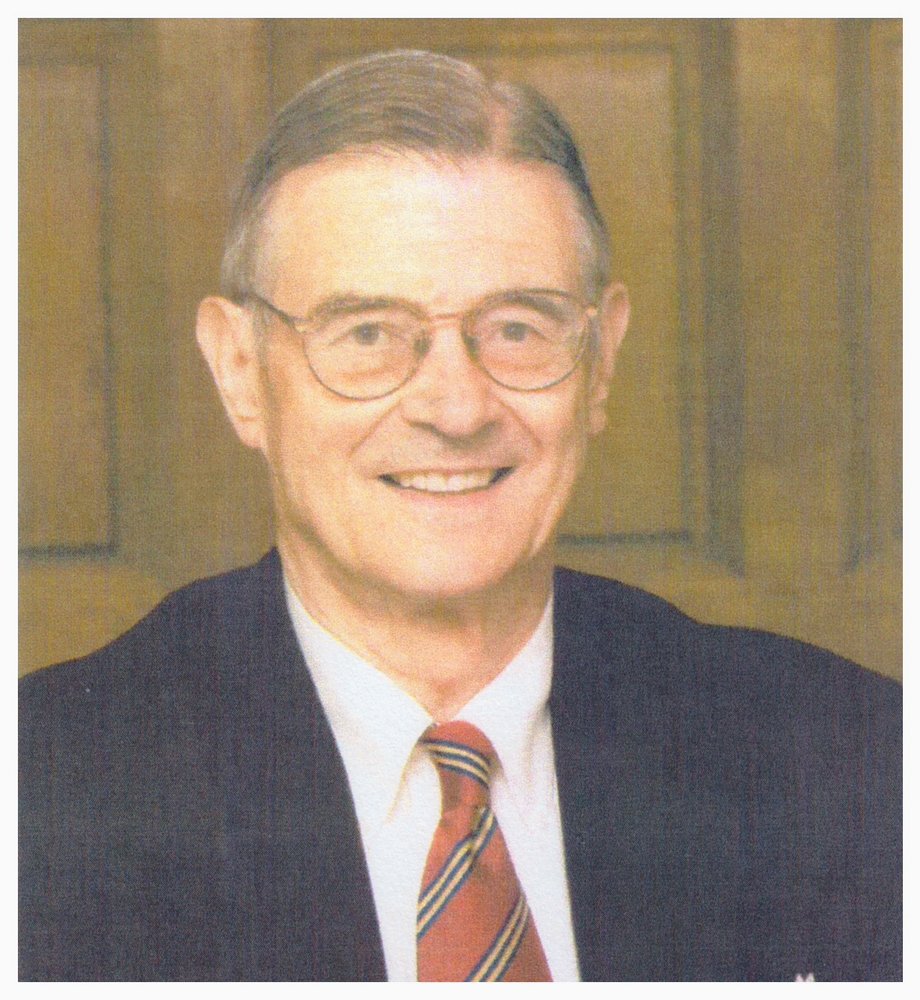 Obituary of Robert S. Summers
Robert Samuel Summers, age 85, died peacefully on Friday, March 1, 2019, at the Waveny Care Center in New Canaan, Connecticut.
Robert (Bob) was born on September 19th, 1933, on the "Gaylord Place" farm in Halfway, Oregon, to Orson and Estella Summers. As a student in first grade, he would walk 300 yards from his home to the Lone Fir Country Schoolhouse. In 1951, Bob graduated from Pine Valley Union High School, where, among his class of 24 students, he was an accomplished student and athlete. He was class valedictorian, and as a senior he won the annual Oregon State Future Farmers of America High School Public Speaking Contest. Bob competed in football, basketball, baseball and track, finishing second in the mile-run in Baker County his senior year. Throughout his childhood, Bob much enjoyed the company of his younger brother, Gordon, his only sibling, who predeceased him in 2014.
In 1955, Bob earned his undergraduate degree from the University of Oregon in Eugene. During his senior year, he was student-body president and a member of the "Senior Six" of Phi Beta Kappa. While a student, Bob drove a school bus to defray the cost of college. In his sophomore year he befriended Margaret Kopp, an employee in the dean's office. She introduced Bob to her daughter, Dorothy, who was also an undergraduate at the university.
Bob and Dorothy were married in Eugene on Tuesday, June, 14, 1955, two days after their graduation. Later that year they moved to England, where Bob studied as a Fulbright Scholar at the University of Southampton. During that year, Bob and Dorothy began a lifelong passion for England, and later all of Europe.
In 1956, Bob enrolled at the Harvard University Law School in Cambridge, Mass. Studying under two leading scholars in jurisprudence, Herbert Hart of Oxford University, and Lon L. Fuller, he developed a keen interest in the philosophy of law. Bob was also introduced to the Socratic Method, a form of instruction that instills learning through rigorous questioning and argument. Later, Bob himself would become known for his spirited use of the Socratic Method. During his three years in Cambridge, Bob worked at the Phillips Book Store on Harvard Square.
Upon earning his L.L.B. degree from Harvard, Bob returned to Oregon, where he practiced law for two years with King, Miller, Anderson, Nash and Yerke in Portland. In 1960, he joined the faculty of the University of Oregon Law School, where he taught for eight years. During the academic year 1964-65, Bob was a Visiting Research Fellow in Legal Philosophy at The Queen's College in Oxford, England.
In 1965, Bob co-authored his first book with Charles Howard, titled Law, Its Nature, Functions and Limits, and published by Prentice Hall.
In 1969, Bob, Dorothy and their five children moved to Ithaca, N.Y., where Bob joined the faculty at the Cornell University Law School. In 1976, he was named the William G. McRoberts Professor of Research in the Administration of Law. Bob would spend 42 years on the Cornell faculty, teaching his last class on December 1st, 2010. During their time in Ithaca, Bob and Dorothy raised their family and set deep roots in the community. They actively supported the varied activities of their five children, including golf, lacrosse, skiing, soccer, baseball, basketball, tennis, high school musicals, and church events.
During their first decade in Ithaca, each summer Bob and Dorothy would drive the family across the country for extended stays in Halfway and Eugene. In Halfway, in the company of Orson, Stella, and their cousins, the children would drive tractors, ride horses, pick berries, and fish, hike and camp in the foothills of the Wallowa Mountains. In Eugene, the family would enjoy time with Dorothy's parents, Harold and Margaret Kopp.
At Cornell, Bob showed a tenacious commitment to scholarship. Alongside legal theory, he developed a second passion for contract law and the Uniform Commercial Code. Over his career he would write or co-author more than 50 books translated into eight languages, and more than 100 published articles. His most influential book was the Uniform Commercial Code, co-authored with his dear friend, Professor James White of the Michigan Law School. Now in its sixth edition, this treatise on the rules that govern the sale of goods and other commercial transactions remains the most widely cited on the Code. Among Bob's other influential works are texts on legal realism, statutory interpretation, and form and substance in the law.
Comparing his scholarly output to his hard work on the farm as a boy, Bob would proudly refer to his writing as, "many fields of hay." He would show his students the muscles between his thumbs and forefingers, saying, "I'm one of the few American law professors with genuine cow-milking muscles."
As his expertise grew, Bob earned international acclaim for his work in contracts, commercial law, jurisprudence and legal theory. He was courted by leading academic institutions around the globe, as well as countries planning to adopt their first civil codes.
In 1974, Bob returned to Oxford where he spent his sabbatical year lecturing at Balliol College. In later sabbaticals to Oxford, Bob was a Visiting Research Fellow at Merton College and then Exeter College, and he later spent research leaves at The Queen's College and St. John's College. In 1991 Bob was appointed the Arthur L. Goodhart Visiting Professor of Legal Science at Cambridge University in England, and elected Visiting Fellow at The Queen's College in Cambridge.
Over their years in Oxford, Bob and Dorothy enjoyed the company of an ever-growing network of friends across the United Kingdom and Europe. They bought a flat near city center, making Oxford their home away from home for more than three decades.
Bob was also a visiting Professor of Law at many universities. He taught at the University of Sydney; the University of Vienna; the University of Warwick; the University of Michigan; and Stanford University, among many others. He lectured at many universities across the globe, including 17 in Germany alone. He so enjoyed his experiences in Germany that later in life he taught himself how to speak German, carrying index cards bearing German words in his coat pocket and in the glove compartment of his car. He was also invited to lecture at several U.S. colleges and universities, including Chicago, Dartmouth, Duke, Harvard, Michigan and Stanford.
In 1983, Bob co-founded the Bielefelder Kries, an international research group of scholars from 10 countries that published two books on comparative legal method. Ten years later, the Russian government called on Bob to help draft that country's new civil code. Later, he served as an adviser to the Drafting Commission for the Egyptian Civil Code, and as principal drafter for the Code of Contract Law for Rwanda.
Bob earned many honors over his 50-year academic career. He received honorary degrees from the University of Helsinki in Finland (1990) and the University of Gottingen in Germany (1994). In 1994, he was a Festschrift honoree, the subject of a collection of essays written by 44 scholars from 12 countries honoring his scholarship, lecturing and teaching. Two years later he was elected a Corresponding Member of the Austrian Academy of Sciences. In 2007 Bob was selected as a Brettschneider Cornell-Oxford Scholar, and spent that spring semester at Oxford University.
In addition to his prolific writing and teaching, Bob maintained a successful part-time law practice. In cases around the world, he was retained by top law firms for his expertise on contract law and the Uniform Commercial Code. With Jim White, he worked on the Exxon Valdez oil spill litigation in Alaska, and on the breach of warranty case on the famous Cippolone tobacco case. Bob burned the late-night oil working on these cases in his home office, with Dorothy typing his Memoranda and briefs.
His prodigious scholarship aside, Bob loved nothing more than helping students of all backgrounds. In 1968 he co-founded the Council on Legal Education Opportunity, designed to address the racial imbalance among those in the field of law. On behalf of the council, he spent many summers traveling the country to meet with minorities and assist them in pursuing legal careers. At Cornell, Bob was beloved by students for his intellectual generosity and personal kindness. In 2012, a former student endowed the Bob S. Summers Student Research Assistant Fund, which provides compensation for Cornell law students who work as research assistants to faculty members.
Throughout his life, Bob was an ardent fan of the St. Louis Cardinals baseball team. As a boy, he would often turn on the radio stashed under his pillow and fall asleep to Cardinal games broadcast on KMOX-AM. In 1968, he and his two eldest sons flew to Detroit to see game five of the World Series between the Cardinals and Detroit Tigers. In his later years, Bob rarely missed a Cardinal game on television.
For all of his interests, Bob took his greatest pleasure in the company of others. A man of curiosity and wit, he cherished every opportunity to share his experiences and learn from friends and colleagues. Bob and Dorothy entertained often in their homes, building and maintaining a network of friends that reached around the globe.
Bob is survived by his wife, Dorothy, New Canaan, CT. He is also survived by son Brent and his wife Mary June, Trout Lake, WA; their children, Mariah Summers, and her husband Geoff Renaud, Austin, TX; and Bridgette, New York City; son Bill and his wife Laurie, Basking Ridge, NJ; their children, Katherine Schneider, and her husband Will Schneider, New York City; John, New York City; and Caroline, Austin, TX; son Tom and his wife Amy, San Diego, CA; their children, Chris, Philadelphia; and Brent, T.J., and Mikaela, San Diego; daughter Betsy Allehaut and her husband Benoit, New Canaan, CT; their children Clarisse and Emeline, New Canaan; son Rob and his wife Corie, Washington DC; their children Kaia, Ruby, and Eliza of Washington DC; and many friends around the world.
Donations in memory of Bob can be made to either the Robert S. Summers Student Research Assistant Fund at the Cornell University Law School, or the Robert S. Summers Scholarship Fund at the University of Oregon Law School.
Share Your Memory of
Robert
Send Flowers
Our local florists are committed to offering only the finest floral arrangements, and are backed by their professionalism and prompt service.