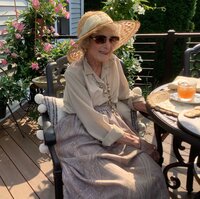 Eugenia V. Sullivan
Eugenia V. Sullivan of New Canaan and later Stamford, Connecticut, passed away at home on May 23rd, surrounded by her family. She was 102.
Born December 10, 1920 in Enfield, Connecticut, and raised in Hartford Connecticut, she was the daughter of Walter Bielecki and Agnes Urban.
She graduated from Hartford High School and later studied and practiced as a Dental Hygienist. Eugenia was predeceased by her loving husband of 45 years, Jerome J. Sullivan, who she married at the Immaculate Conception Church in Hartford, Connecticut, on September 4th, 1948.
Eugenia will be missed by so many who loved her for her sense of humor, her commitment to genuine, caring friendships, and her uncanny ability to remember every event and occasion—and every person's name—over the span of many decades.
Eugenia was renowned, and will be long remembered, for her vivaciousness and determined independence—attributes that persisted well into her nineties, and past the century mark. She loved animals and Manhattans, was an accomplished cook, and was a devoted and cherished member of her extended family for many years.
Eugenia is survived by her niece, Nancy Roath and her husband Jerry Roath, of New Canaan, Connecticut, as well as their children Patrick and Suzanne; her nephew Brian Goode and his wife Gigi Goode of Hilton Head, South Carolina, and their children Jason and Michael; Peter Canny, husband of the pre-deceased Elizabeth Canny, Eugenia's niece, and Peter and Elizabeth's three children Traynor, Colin and Spencer all of Manchester-by-the Sea, Massachusetts.
A Celebration of Life Memorial will be scheduled at a future date.
If you would like to make a memorial gift for Eugenia V. Sullivan, the family suggests sending contributions to Guiding Eyes for the Blind, 611 Granite Springs Rd., Yorktown Hts., NY 10598