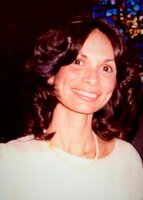 Anna Marie Schroeder
Anna Marie Schroeder of New Canaan, Connecticut passed away in her sleep at home on Thursday, May 18, 2023 after a four-year battle with cancer.
Anna Marie was born in Poughkeepsie, New York to Nettie and John Crevino on September 22, 1942. Following college, she worked in the travel industry for many years enabling her to travel extensively throughout Europe and the Caribbean.
She met the love of her life, Klaus E. Schroeder, on one of her trips, and they were married in 1982. They lived in Greenwich until they moved to New Canaan in 1985.
Anna Marie was a member of St. Aloysius Church and actively involved in various parish groups, particularly Our Lady's Guild and Adult Bible Study programs. For several years she was a volunteer for The New Canaan Inn at Waveny. She was also a member of The Saugatuck Shores Club in Westport.
Anna Marie is survived by her beloved husband, Klaus, her sister, Giavanni Fratz, her sisters-in-law, Ingrid Rankin and Uta Besthorn, her nephews, Edward Fratz, Matthew Fratz, and Kevin Besthorn and her niece, Christina Budelmann. She was predeceased by her parents and her sister, Marlene Barrett.
Funeral arrangements are being handled by Hoyt Funeral Home. A Mass of Christian Burial will be celebrated at St. Aloysius Church, 21 Cherry Street in New Canaan on Tuesday, May 30, at 11:00 a.m., followed by interment at Putnam Cemetery in Greenwich.
Contributions in Anna Marie's memory may be made to St. Aloysius Church.