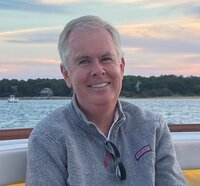 Brendan Joseph O'Halloran
Brendan O'Halloran passed peacefully on May 9 with his wife, daughter and son by his side. He finally succumbed to melanoma that had originally been diagnosed in 2007. Beloved husband of Lorraine for 30 years, he is survived by his daughter, Grace, of Charlotte and son, Aidan, of New York City. He also leaves behind his sister Catherine of Toronto, Canada.
Brendan was born on September 19, 1962 in Toronto to Brendan and Mary O'Halloran of Dublin and County Mayo, Ireland, respectively. He was most proud of his parents who had worked so hard to provide his sister and him with opportunities of which they could only dream. After attending high school in Toronto at St. Michael's College, he left Canada to attend Princeton University where he ran on the Track & Field team and served as an Officer of the University Cottage Club. He joined the investment banking firm, The First Boston Corporation, in Manhattan after being graduated in 1985. He returned to school in Boston where he earned a MBA at Harvard Business School in 1989. More importantly, Boston was where he met Lorraine LeFort whom he married in 1992. He often credited Lorraine with changing him and his life. Her optimism and kindness were infectious and made him, he knew, a better person. He recognized that everything good in his life was because of her. After Harvard, Brendan began a career at TD Bank in New York City, retiring in 2015 as Vice Chair and Region Head of the US for TD Securities. Lorraine and Brendan raised their family in New Canaan before becoming residents of Naples, Florida in 2017. Despite the move, Brendan never tired of visiting New Canaan and Cape Cod, the latter, a love for which was required upon his marriage to Lorraine! He was most proud of Grace and Aidan, not for their varied accomplishments, but because of the kind and caring adults they have become. Brendan's first priority was always his family. He was most grateful that he took the opportunity to retire while Aidan and Grace were still in high school and enjoyed eight wonderful, uninterrupted years with them and Lorraine before his passing. Despite his young age, he often marveled at all of the wonderful things God had allowed him to experience in this world and what a privilege it had been to live in this country. In his retirement, he served on the Boards of Bar Harbor Bank & Trust, Cigent Technology and the University Cottage Club of Princeton while also serving at the pleasure of his dog, Honey.
.
Brendan will be remembered for his kind wit, a charming way with those from all walks of life and, most importantly, his dedication to family. Brendan created a life for himself, his wife, and his children that is remarkable in its fullness, love and faith. Despite its relative shortness, his life was, in his opinion, the very thing that dreams are made of and he harbored no regrets, only appreciation, as he left this world. Brendan is our hero.
A Mass of Christian Burial will be held at St. Aloysius Church in New Canaan, Connecticut on Monday, June 12th at 11:00 a.m. The family is requesting everyone to please wear any shade of blue to honor Brendan as it was his favorite color.
To watch the Mass live please visit: https://boxcast.tv/view/memorial-mass-for-brendan-joseph-ohalloran-dqfsfva59wd0afiorwak
In lieu of flowers, a donation in Brendan's honor may be made to Tunnel To Towers. t2t.org