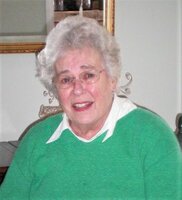 Phyllis Johnson Kelley
Phyllis J. Kelley, 89, formerly of New Canaan, CT passed away on Tuesday, April 25, at Spring Village in Danbury, CT. She was predeceased by her husband, Warren, and their infant daughter, Diane.
Phyllis was born in North Plainfield, New Jersey, and moved to New Canaan when she was married in 1953. She and Warren moved to Bethel in 1994, then to Newtown in 2004. Phyllis enjoyed her family and friends while raising three children. She especially enjoyed sewing, gardening, traveling and spending summers in Old Saybrook.
She is survived by her three children, Jim, of New Canaan, Nancy Flachsbart of Bethel, and Jill Cover of Hillsborough, New Hampshire, and was affectionately known as "MeowBow" by her seven grandchildren and four great grandchildren.
A service of remembrance will be held at Hoyt Funeral Home in New Canaan, on Saturday, May 6, at 11:00 am. The burial will be private.
Those who wish to remember Phyllis may make gifts in her memory to Constellation Hospice Services, 240 Indian River Road, Orange, CT 06477, Att. Heather Billingham