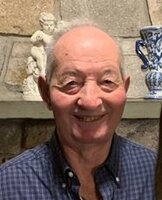 Giovanni Socci
Giovanni (John) Socci, born December 30, 1937, passed away peacefully at his home on April 20, 2023, surrounded by his loving family. John was a long time resident of New Canaan and worked for the New Canaan Board of Education as head groundsman for 44 years. Additionally, he owned and operated a landscaping business before retiring in 2018.
Born in Settefrati, Italy, John was the son of Ercoli Socci and Maria Macari Socci. He met his wife and immigrated to the United States where they raised their two children. John took pride in hard work, good friends and close family. His was a life well-lived.
John is survived by his wife, Loreta of 59 years, his children John (Clare), Gina Ruppert (Dirk), four grandchildren and 2 great-grandsons. He is also survived by his brothers Antonio (Emilia) and Jack Socci both from Stamford and was predeceased by his brothers Pierto (Fran), Guisseppe (Connie) and Liberato (Kathy) Socci.
Visitation will be held on Monday April 24th from 4:00-8:00 PM at Hoyt Funeral Home 199 Main Street in New Canaan. A funeral mass will be celebrated on Tuesday April 25th at 10 AM at St. Aloysius Church in New Canaan with entombment to follow at Lakeview Cemetery in New Canaan. In lieu of flowers, donations can be made to St. Jude's Children's Hospital at stjude.org.