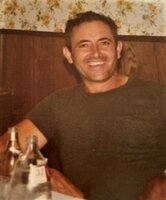 Pasquale Valente
With great sorrow, the Valente, Coppola, Palladino, and Krolikowski families announce the passing on April 11, 2023, at home, surrounded by family, of our gentle and unimaginably kind father, grandfather, and friend, Pasquale "Patsy" Valente, age 80.
Pasquale was born on October 7, 1942, in Villa Latina, Italy, to the late Melchoire and Antoinetta Valente. In 1966, after serving in the Italian Army, Patsy met the love of his life, Maria, while working the fields in his hometown. This rather intense meeting led to their marriage in Italy and culminated in their journey in 1968 to America in pursuit of their American Dream.
Once in America, Patsy and Maria settled in New Canaan and worked tirelessly to provide a better life for their growing family. Patsy's third dream (Maria was his first, and coming to America was his second) came true when Anna was born, followed by his twins, Dominick and Donna.
Pasquale's love for his family was closely linked to his strong work ethic (which he passed along to his children) and his desire to provide for his immediate family, support his family in Italy, and ultimately help ensure the success of his children and grandchildren.
Patsy was a skilled craftsman who worked for decades in the construction and maintenance industries, renovated his beloved house on Smith Ridge Road with his wife and children, and helped many friends and family with various construction projects, large and small.
His kind and gentle demeanor only outmatched his carpentry skills. Patsy loved to spend time with friends and family hunting, cooking, eating, dancing to Italian music, spending many evenings at "the Club," drinking good homemade wine, eating delicious ice cream (usually Baskin' Robbins), traveling to Italy, and his vacation home in Cape Cod, Massachusetts.
On any given day, you could find Patsy driving his red Chevrolet pickup truck around New Canaan, visiting friends or family, critiquing (he was always right) construction projects, helping back up traffic on 123 (he was a conscientious driver), stopping at a deli for a snack, visiting a hardware store to get materials for the next project, or most of all, waving and smiling to all that he passed. Patsy's legacy of kindness will continue forever in our memories, and he inspires us to be kind.
Pasquale leaves behind his daughter, Anna Krolikowski (Leon), son, Dominick Valente (Ann Marie) and daughter, Donna Coppola (Stefano), nine adoring grandchildren-Morgan, Kelsey, Ryan, Jake, Lulu, Luke, Sofia, Ella, and Christian---brothers, Bruno, and Rafael, sisters, Teresa, and Gilda, brother-in-law Peter, sister-in-law Rosa, and many relatives, in both New Canaan and Italy, countless friends, and the love of his life, his wife, Maria.
Pasquale, riposa in pace, ti amiamo e ci manchi più di quanto possiamo esprimere.
We are so grateful and blessed for our friends and family who were there for us on the afternoon of Patsy's passing. A heartfelt thank you to the New Canaan Police Department and the New Canaan Volunteer Ambulance Corps for their selfless service.
A visitation will be held on Monday, April 17, 2023, from 3:00 p.m.–7:00 p.m. at Hoyt Funeral. Home, 199 Main Street, New Canaan, CT.
A Christian burial Mass will be held at 10:00 a.m. on Tuesday, April 18, 2023, at St. Aloysius Church, 21 Cherry Street, New Canaan, CT. Burial will follow at Lakeview Cemetery, New Canaan, CT.
In lieu of flowers, donations can be made to the New Canaan Police Department K9 Fund, 174 South Avenue, New Canaan, CT 06840-NCPD K9 Fund-or to the New Canaan Volunteer Ambulance Corps. 182 South Avenue, New Canaan, CT 06840-NCEMS DONATION
To watch the Mass live please visit: https://boxcast.tv/view/memorial-mass-for-pasquale-valente-bsioecxtdfyfvyirenfl