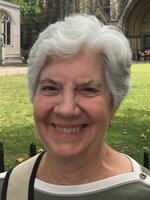 Margaret J. "Peggy" Pettibone
Margaret (Peggy) Pettibone, 80, of Jupiter FL, Wilton CT, and formerly New Canaan, peacefully passed away on March 10, 2023. She was born in Indianapolis to Bob and Edna Johnson and sister of Robert E. Johnson. Peggy grew up in Springfield, PA and summered with her family in Avalon NJ.
Peggy graduated from the University of Miami (FL) in 1964 and returned to Philadelphia to pursue a career in psychological testing and human resources. There she married Tom Pettibone and worked for the INA Insurance Company. Subsequently they moved to Birmingham MI, Ridgewood, NJ, and eventually New Canaan, CT where they raised their children, Elizabeth and David.
In Michigan, Peggy worked for Holy Cross Hospital in human resources. She loved sailing and competitively raced on Watkins Lake. There the family attended Christ Church Cranbrook. When they moved to Ridgewood NJ in 1977, Peggy worked for Merrill Drug Co., joined the Junior League, and attended St. Elizabeth's Church. Peggy was a member of the New York Amateur Ski Club and skied in Vermont and the West.
In 1982 the family settled in New Canaan where Peggy became a PC instructor. She was a member of the Junior League, board member of A Better Chance, and attended St. Mark's Church. She loved golf and was a member of the Country Club of New Canaan and the Norwalk Yacht Club. The family sailed the northeast in their sailboat "Arbitrage' and chartered in the Caribbean. They continued skiing in the winter and summered in Shelter Island NY where Peggy was a member of the Gardner's Bay Country Club and the Shelter Island Yacht Club.
In 2003 Peggy & Tom moved to Jupiter, FL and summered in Connecticut. Peggy played golf and cruised south Florida and the Keys in their powerboat "Gypsy Girl". They attend Christ Memorial Chapel in Hobe Sound FL.
Peggy loved trading the stock market and traveling. Over the years they visited China, Tibet, Europe, UK, Greece, Russia, Scandinavia, Hawaii, Central & South America, the Caribbean, Mexico and the Western US.
Peggy is survived by her husband Tom, their children, Elizabeth DeFilippo of Bedford NY, and David Pettibone of Norwalk CT, their grandchildren Ryan and Ali DeFilippo, and several nieces and nephews and their families.
Memorial donations may be made to St. Mark's Church (www.stmarksnewcanaan.org), Christ Memorial Chapel (www.christmemorialchapel.org), or Alzheimer's Drug Discovery Foundation (www.alzdiscovery.org). The family wishes to thank everyone for their kind notes, sentiments, and donations.