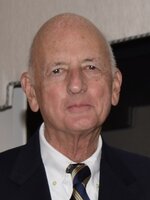 Donald J. Fager
Donald J. Fager, Esq., who devoted his career to advocating for changes in the medical system to enhance patient safety, died at his home in New Canaan, Connecticut. He was 92.
Mr. Fager was a defense attorney and a noted authority on medical malpractice. He was a founding Board Member of the National Patient Safety Foundation and sought to reduce medical errors and help physicians provide better patient care.
In 1975, he founded Medical Liability Mutual Insurance Company (MLMIC), the first physician-owned insurance company and the largest mutual insurance company of its kind in the U.S. The company was purchased by Berkshire Hathaway in 2018.
With the success of MLMIC, Mr. Fager was frequently consulted, helping establish physician-owned insurance companies across the country. He testified on medical liability issues before committees of the U.S. House of Representatives, as well as state legislative committees. He served on the Liability and Quality Committee of New York Governor Mario Cuomo's Health Care Advisory Board.
Mr. Fager began his career as a trial attorney with the New York City law firm Martin Clearwater & Bell, specializing in the defense of physicians, dentists, and hospitals in medical malpractice cases in New York State.
He was a founding Board Member of the Medical Professional Liability Association (MPL), where he served as President and on the Board of Trustees. He was also a member of the Medical Defense Committee for the International Association of Defense Counsel; a member of the Defense Research Institute; and an Arbitrator for the American Arbitration Association.
Mr. Fager graduated from Regis High School in Manhattan and received his Bachelor of Arts degree with honors from the University of Notre Dame. He received his Juris Doctor degree from New York University School of Law, where he was an Editor of the Law Review. He was a long-time member of the University Club in New York City.
He is survived by his wife Geraldine, three children, and four grandchildren.
A service will be held at Saint Thomas More Church in Darien, Connecticut on Saturday, March 11th at 10:30 am.
To honor his memory, contributions can be made to the St. Francis Breadline, 135 W 31st Street, New York; the Covenant House, 460 W 41st Street, New York; the Physicians' Home, 445 Park Avenue, New York; the Bridgeport Rescue Mission, PO Box 9057 Bridgeport, CT.