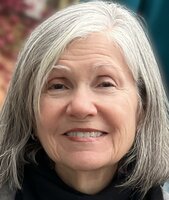 Sandra E. Cardone
Sandra E. Cardone, 79, of New Canaan, formerly of Wilton, passed away on Saturday Feb 18th, two days shy of her 80th birthday. Sandra was born February 20, 1943, in NYC, daughter of Manuela Jove and Anthony Gelpi.
Sandra was raised in New York CIty where she attended Mother Cabrini Catholic High School and went on to graduate Summa Cum Laude from Hunter College, with a MA in History. Sandra was on the debate team at Hunter, and a member of the Alpha Gamma Delta sorority where she forged life-long friendships. During her college years Sandra met her soulmate, the late Dr. Vincent J. Cardone, at a Fiji-house fraternity Halloween party. Vincent knew she was "the one" from the instant they met, often recounting the story of their meeting,
Sandra and Vincent married in 1966. They were madly in love, shared strong values centered on family and hard work, their relationship always mutually supportive, vivacious and unwavering. They were best friends and partners for the entirety of their lives with an extraordinary, unbreakable bond palpable to all who knew them.
In their early years as a married couple, Sandra worked as a history teacher at White Plains High School while Vincent established Oceanweather, Inc, a small forecasting and hindcasting business. After the birth of their first daughter Michelle Ann (1971), Sandra dedicated herself to the self-less work of caregiving and homemaking, welcoming second daughter Alissa Marie in 1974. Sandy's caregiving continued far beyond child rearing as she took on the care of her own parents when they became frail in their later years. Sandra returned to the workforce as the Office Manager for Oceanweather, where she supported and managed her husband's business. Her responsibilities didn't prevent her from making time for charity work as a volunteer for organizations like Meals on Wheels, Animals in Distress, the Wilton Garden Club and her Church.
Sandra is remembered by all for her genuine warmth, kindness, classy style, quick wit and for always freely sharing her opinions. Her close friends thought of her as a sister, her family a beacon.
Sandra's greatest sorrow in life was the death of her husband, whom she cared for until his untimely death from cancer in 2013. Since then she has played a central role in the lives of her grandkids and been a second mother to her eldest daughters' children. She is survived by her children Michelle Cardone, Alissa Cardone Cleary & husband Jeff Cleary and seven grandchildren: Josephine (13), Evangeline (12), Vincent Harmon & Isaac (10), Polly (8), Serena (7) and Vincent David (7) as well as numerous friends and extended family who will gravely miss her.
A service will be held at St Aloysius Church in New Canaan, Sat. Feb 25th at 10am, to honor her life. Sandra was a devout, practicing Catholic. In lieu of flowers, the family asks that donations be made to St Aloysius or the Little Sisters of the Poor in her name. To view the Mass via live stream please visit the link below.
| | |
| --- | --- |
| | https://boxcast.tv/view/memorial-mass-for-sandra-e-cardone-picngkajnnxpxrgs6npm |