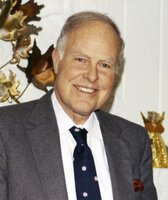 John Richard (Dick) Weber
John Richard (Dick) Weber, 88, of New Canaan, CT passed away on February 11, 2023 after a courageous battle with cancer and with his loving daughter by his side. Dick was born on June 6, 1934 in Detroit, Michigan to the late Gertrude and Claude J.N. Weber.
As a young child, with his blond hair and blue-green eyes, Dick became the face and model for one of the Dairy Industry's ad campaigns across the Midwest. Upon moving East, Dick grew up in Belmont and Weston, MA. He graduated from St. Sebastian's School in Needham, MA, and then Dartmouth College in 1956, where he joined the Sigma Phi Epsilon fraternity.
On a trip to Cincinnati, OH, he met his soon-to-be wife, Carol. After their marriage, they moved to Philadelphia, PA where he worked for the Scott Paper Company in public relations. Soon, he joined the Chilton Publishing Company, and later their Automotive Industries Division in sales and marketing. He and Carol settled in New Canaan, Connecticut in 1961 where he remained throughout his life, joining the ranks of all the other Metro North commuters. Later, he and Carol divorced, although they remained good friends throughout their lives until her death in 1999.
In his earlier years in New Canaan, Dick was a member of the New Canaan Exchange Club, the New Canaan Field Club, and he served on the Republican Town Committee for 12 years. During that time, he and another New Canaanite created the New Canaan Young Republicans' Club, and he served as the chairman of their fundraising activities for many years.
For several decades, Dick also worked tirelessly setting up and closing down New Canaan's polling places. In addition, he served on the board of Strays & Others, Inc., one of Fairfield County's oldest animal welfare organizations and New Canaan's first. For nearly four decades, he devoted a tremendous amount of his effort and time to helping the nonprofit, raising significant funding, fostering, and always helping behind the scenes.
Dick's passion was golf. After working as a caddie in Belmont when he was young, he fell in love with the sport. Phil Mickelson was Dick's favorite because he was a lefty, just like him. Dick played golf up until the last two years of his life. It was all about getting outside, enjoying, and just having fun. His television was always alive with a golf tournament somewhere in the world.
He was kind-hearted. If someone needed help, Dick would be the first one to offer assistance. He will be remembered for his warmth, integrity and humility. More than anything else in the world, he was a totally devoted, dedicated, and proud father.
Dick was also devoted to his faith and had been a member of St. Aloysius Parish for the past 60 years. For decades, he could be seen leading and organizing the collection at the 5:00 Sunday Evening Mass until his recent illness prevented him from attending. He loved the music and the vibrancy of the youth at that Mass. It gave him such great joy to be part of it.
Dick was predeceased by his ex-wife, Carol Couch, former New Canaan Republican Registrars of Voters, and his brother, Donald Weber. Surviving him is his daughter, Claudia Weber, who is New Canaan's Town Clerk.
A Mass of Christian Burial to celebrate Dick's life will be held at St. Aloysius in New Canaan on Tuesday, February 21st at 11 A.M. Interment will follow at Lakeview Cemetery. In lieu of flowers, donations in Dick's memory can be made to the nonprofit organization that was dear to his heart: Strays & Others, Inc., P.O. Box 473, New Canaan, CT 06840 or at https://greatnonprofits.org/org/strays-others-inc .