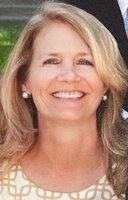 Jane Richards Colihan
Jane Richards Colihan, beloved wife of Jim Colihan, passed away on February 11, 2023 at her home in Wilton, Connecticut. Jane was born in Augusta, Maine in 1955, the daughter of Dr. Lee W. Richards, Jr. and Mary E. Ryan. After growing up in Augusta, Jane attended St. Michaels College in Colchester, Vermont, graduating in 1978. She spent her junior year abroad in Madrid, Spain, where she developed her life-long love of Spain, Spanish culture and international travel.
After college, Jane worked at Delta Air Lines for several years, where she pursued her passion for foreign travel and cultures. She met Jim Colihan in 1981 and the couple were married on Islesboro, Maine in the fall of 1985 despite the onslaught of Hurricane Gloria, which shut down the Maine State Ferry Service and nearly forced the wedding to be cancelled. The couple initially lived in New York City and then moved to Wilton in 1994, where they raised their four children.
Jane was an exceptional person in so many ways, as reflected in the interests she pursued, the lifelong friends she made and the rich life she led. Jane's extensive travels took her from camel rides along the Great Wall of China, to a safari in Kenya, to a hiking trek up Machu Picchu in Peru, to name just a few. But her fondest destination was always her beloved Spain, especially hiking along the Camino de Santiago, where she spoke Spanish with fellow "pellegrinos." Jane was also active in the local Spanish-speaking community, serving as a long-time volunteer at Caroline House in Bridgeport, helping migrant women assimilate into the community. She also maintained a cherished relationship with the School Sisters of Notre Dame in Wilton. The annual Christmas parties she hosted in her home for the Sisters were one of the highlights of the Christmas season for those who attended.
On a personal level, Jane had a reflexive generosity and a natural interest, empathy and love for others that earned her many strong and enduring friendships. People loved to be Jane's friend. She was always "Plain Jane from Maine." But with her radiant beauty and smile, she could be as stunning and glamorous as any model. In reality, Jane was not so "plain" -- she was special.
But Jane saved her greatest talents for her role as matriarch of her beloved family. She brought unparalleled wisdom, wit and charm to the art of parenting and her legacy lives on in the beautiful family she raised. She leaves behind her husband, four children and three grandchildren, including Katherine Scott (Tom), Charlie and Grace Scott of Darien, CT; Leigh Colihan (Pat Czorniak) and Annie Czorniak of Charlestown, MA; and John Colihan and Jimmy Colihan of New York City.
A Mass of Christian burial will be celebrated at Our Lady of Fatima Church in Wilton, CT, at 10:30 A.M. on Friday, February 17, 2023. Burial arrangements will take place privately in Islesboro at a later date. In lieu of flowers, donations can be made to the School Sisters of Notre Dame, Development Office, 345 Belden Hill Rd., Wilton, CT 06897 www.amssnd.org.