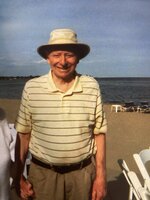 Mark Rockwell Lefler
Mark Rockwell Lefler, 79, of New Canaan, CT passed away with his wife by his side on February 7, 2023 after a 5 ½ year battle with Multiple Myeloma, he passed away from a stroke at Norwalk Hospital. He was born in Norwalk, CT on April 7, 1943 to the late Sterling M. and Mildred (Moore) Lefler. Mark was the devoted husband to Sandra Conner Lefler of New Canaan, CT.
Mark took college courses before joining the Navy in 1962 and working on the USS Forrestal for 3 years. Upon leaving the Navy in 1965 he worked for the family business Kitchens by Lefler in Westport, CT. Mark married the love of his life Sandy Conner on June 24, 1967 in New Canaan, at the Methodist Church. Sandy is the granddaughter of the late William Bidwell Conner who was active in New Canaan sports for many years. Mark went on to have a 20 year career with CT Transit in Stamford before retiring. He enjoyed doing genealogy for the Lefler and Conner families.
Mark loved being outside hiking, swimming and fishing. He was also a volunteer for the Connecticut Forest and Park Association. In this capacity Mark was a trail manager at the Mohawk Trail in Cornwall, CT. He would hike the trail and make sure it was cleared and safe for fellow hikers. Mark and Sandy also enjoyed taking their canoe out to the lakes in upstate and would bring their sheltie with them to make a fun threesome. He enjoyed being with his grandsons and sharing his love of the outdoors with them. Mark was a member of The New Canaan Historical Society and created an exhibit on the History of the New Canaan Railroad and Station. He also belonged to the Men's Bible Study Group at St. Aloysius Church.
Mark is survived by Sandy Conner Lefler, his wife of 56 years, his son Mark Lefler Jr. of Auburn, New York, his two grandsons Draven and Conner Lefler and his sister Anne Lloyd of Front Royal, Virginia. Mark also leaves behind 5 nieces and 2 nephews. He will be very missed by his family and the many friends who knew him.
A Mass of Christian Burial will be held on February 18, 2023 at St. Aloysius Church 21 Cherry Street, New Canaan, CT at 11:00a.m. A visitation will be held from 5:00 – 7:00 p.m. on February 17, 2023 at the Hoyt Funeral Home 199 Main Street New Canaan, CT. The burial will follow the church service at Lakeview Cemetery in New Canaan, CT.
In lieu of flowers donations can be made in Marks name to the Connecticut Forest and Park Association: https://ctwoodlands.org/donate/