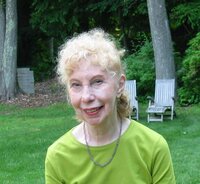 Dorothy C. Guthke
Dorothy Charlotte Guthke, 93, a resident of Wilton, CT died peacefully on January 26, 2023. Born in June 29, 1929 to Hubert and Irmgard Guthke, Dorothy lived for much of her life in Glendale, NY.
Dorothy was the epitome of a "free spirit," having a love of nature and animals and finding joy in every situation. Dorothy worked for many years as a travel agent, which provided her the opportunity to explore the world, something she loved tremendously. A safari to Africa was one of the highlights but Dorothy loved nothing more than to travel, especially to her parent's homeland of Germany. Travelling with her family, especially her sister, took priority over anything else. A freighter trip with her sister Kathy was yet another memorable event. Anyone who came into the presence of Dorothy and Kathy couldn't help but remark on the contagious laughter and sheer fun they always seemed to have.
Dorothy loved all things German and took pleasure in teaching the language to anyone who was interested in learning. She especially enjoyed the traditional Sunday dinners and coffee and cake with her friends and family.
The only thing Dorothy loved more than travelling was animals, especially her dog Felix and cat Maxi. She could never pass a dog without stopping to pet it and would stop and have long conversations with the owner.
Dorothy is preceded in death by her brother Ray Guthke. She leaves in love her dear sister Kathy Rumery of Wilton, CT; her nieces Alison Jacobson of Wilton, CT and Elizabeth (Guthke) Buckner of New Canaan, CT; her great nephews Josh Buckner and Spencer Rhodes and her great nieces Sarah Buckner, Kelsey Rhodes and Hannah Rhodes.
A celebration of life will be held later this year. In lieu of flowers the family is asking for donations to be made to First Candle in honor of her great nephew Connor Rhodes who died from Sudden Infant Death Syndrome in 1997.