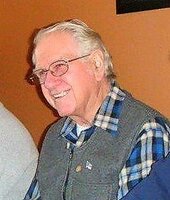 Lawrence E. Byrne Jr.
Lawrence E Byrne, Jr. 93, passed away peacefully on November 28, 2022, at home surrounded by his loving family. Larry, as he was called by his friends, was born in Norwalk, Connecticut on August 29, 1929, to Lawrence E Byrne, Sr. and Blanche Bickford. He was the oldest of four siblings, sisters Beverly Walker of New Hampshire, and Peggy Dorriety of Kentucky, and predeceased by his younger brother Robert Byrne of Florida.

After graduating from New Canaan High School, he served in the US Army in Okinawa during the Korean War. He worked as a heavy equipment operator for more than four decades at B&S Construction, building homes, roads, schools, and commercial buildings all over New Canaan and Fairfield County. Simultaneously, he made a name for himself as a clockmaker and repairman and continued that well into his senior years.

He was predeceased by his wife Mary Ellen (Ball) Byrne after 69 years together. Meeting in 1949, at a square dance in Darien, they married in 1950 and settled in New Canaan in the house they built together and where they would raise their children. The Byrne family has been in New Canaan for five generations. Larry was very knowledgeable in local history and a great storyteller. Family and family history were two of the most important things for him. He will also be remembered for his Sunday "Stone Soup" lunch, where all were welcomed.

He is survived by his daughters Cynthia Byrne Vitti (Richard) of Darien, Ellen Byrne of Southbury, and sons Timothy Byrne of New Canaan, Christopher Byrne (Diana) of Goshen, and Kenneth Byrne (Catherine) of Stamford, as well as twelve grandchildren and five great-grandchildren.
A funeral service will be held on Saturday December 3, 2022 at 11 a.m. at the First Presbyterian Church of Stamford, 1101 Bedford Street, Stamford, CT 06905. A visitation will be held on Friday December 2, 2022 from 4:00 to 8:00 p.m. at the Hoyt Funeral Home 199 Main Street, New Canaan, CT 06840.