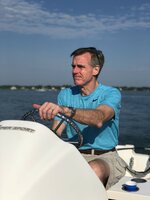 John Patrick Reddan
John Patrick Reddan 65, of New Canaan, CT passed away peacefully with his loving wife by his side on November 12, 2022. John was born in the Bronx on July 2, 1957 to Thomas Joseph and Anne McCauley Reddan. He was the beloved husband of Mary Ellen (Fortunato) Reddan of New Canaan.
John grew up in Pearl River, NY. He attended St. Margaret's School, Bergen Catholic, and Pearl River High School. He went on to Siena College and ultimately received his M.B.A. from Columbia University.
He worked for several financial institutions throughout his career, ending up at Epoch Investment Partners as a Managing Director, Portfolio Manager, and Senior Research Analyst.
John was a devoted Yankee fan; he rarely missed watching or listening to a game.
He loved being outside and working in his gardens, taking so much pride in making them look beautiful!
Johns favorite place was on Quonochontaug Pond in Rhode Island, where he enjoyed swimming, boating, and most of all spending time there with his family and friends.
John is survived by his wife Mary Ellen, daughter Jane, sons John (Hayley), Matthew, and grandson Jack. He also leaves his two brothers behind; Joseph of Arizona, and Stephen (Patty) of John's Island, SC, and many beloved nieces & nephews.
A Mass of Christian Burial will be held on Friday, November 18th at 11:00 a.m. at Saint Aloysius Church 21 Cherry Street, New Canaan, CT. A wake will be held on Thursday, November 17th from 4:00-8:00 p.m. at Hoyt Funeral Home 199 Main Street, New Canaan, CT 06840.