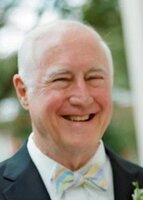 George Frederick Voris III
George Frederick Voris III, 83, a gentle giant, died peacefully at his home in New Canaan, CT on Saturday, October 15th, 2022 surrounded by his loving family. Born on the South Side of Chicago, he was the second of seven children and firstborn son of the late George Frederick Voris Jr. and Kathryn Fisher Voris. Affectionately known as Mickey, he became the favorite uncle and babysitter to all.
Prior to moving to New Canaan, he lived in the Washington, D.C. area and Potomac, MD for over 40 years. He was an active member of the community in which he lived serving many roles in his church, children's schools, and his beloved Notre Dame Club. He enjoyed people and always loved having his kids, family and friends close by. His infectious smile, calm demeanor, and ability to listen made him an instant favorite. He was smart, articulate and a lover of books, art, geography, and maps. This is not to disregard his competitive side. He loved sports and loved to win, and to make a deal.
George graduated in 1961 from the University of Notre Dame College of Arts and Letters where he majored in Great Books. He received a M.B.A. in 1963 from the University of Chicago before serving in South Korea as a First Lieutenant in the U.S. Army Intelligence. A political appointment brought him to Washington, D.C. where he worked in government before beginning a rewarding career in commercial real estate. He loved his work, formed lasting friendships with colleagues, and enjoyed mentoring commercial brokers starting their careers in the Washington, D.C. market.
George is survived by Dorothy Daly Voris, his wife of 47 years, and twins – Meghan Tatum (James Tatum) of New Canaan, CT and Michael Voris (Alexandra Buckley) of New York City. He is the proud Grandfather to five grandchildren, ages 2 to 12 (Meriwether and George Gray Voris and Alice, James, and Wellens Tatum). He is survived by his brothers John, Stephen and Peter Casey Voris and his sister, Katie Campbell. His beloved sisters Nancy Gleason and Patricia Gavin are deceased.
Visitation hours will take place on Thursday, November 3rd from 4-7 p.m. at Hoyt Funeral Home, 199 Main Street, New Canaan, CT. A Memorial Mass will be held on Friday, November 4th at 11 a.m. at St. Aloysius Roman Catholic Church, 21 Cherry Street, New Canaan, CT. A reception will follow. Interment will be private.
In lieu of flowers, donations may be made to SOME (So Others Might Eat) in Washington, D.C., The University of Notre Dame Program of Liberal Studies, or a charity of your choice.