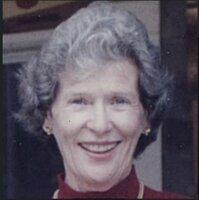 Katheryn Lynn Babbitt
Longtime Marion, MA resident Katheryn Lynn Babbitt, 94, passed away at Waveny Care Center on October 4, 2022 in New Canaan, Connecticut.
She was born in Princeton, West Virginia on April 27, 1928 to Francis Norton Davidson and Eva Gallaher Davidson. Following Mr. Davidson's work-related accidental death when Katy was but eight months old, her mother subsequently married Colonel John Clementson Key, a professor of mathematics and engineering at The Citadel, and the family lived in Charleston.
Katy graduated from Meminger Girls' High School and the College of Charleston, where she was a History major and President of her Chi Omega sorority chapter. Shortly after graduation she and Edwin (Ted) V. Babbitt were married, and they soon moved to Marion, MA where her husband joined the Babbitt Steam Specialty family business in New Bedford.
During her years living in Marion, along with her husband Katy was a communicant of St. Gabriel's Church and during the 1950s was a founding member of the Marion Art Center's theater group called The Hornblowers. She actively participated as a member of The Sippican Tennis Club, The Kittansett Club, the Country Club of Charleston, and The Beverly Yacht Club.
She was predeceased by her husband Ted Jr. and son Ted III. Katy is survived by her daughter Donna (John) Reinman, two grandsons, and two great grandchildren.
She also leaves her daughter-in-law Jane Babbitt, her four grandsons and granddaughter, and two great grandsons.
An only child, Katy was a loving, kind person who retained a lifelong affection for her native South. She spent many happy days sailing with family, playing bridge, tennis and golf with friends, and enjoying her many poodles including Timothy, her companion for most of her final 14 years. She will be greatly missed by all who remember her considerable beauty, gracious charm and gentle personality. The family wishes to thank the Inn at Waveny and her caregiver Florence, who provided excellent care in her final years.
Internment will be private, followed by a memorial service to take place at St. Gabriel's in Marion, MA on at 2pm October 21st.