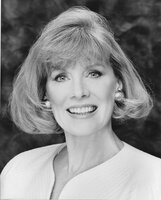 Ann Granath
Ann Granath of New Canaan, CT passed away peacefully on October 7th, 2022 in Stamford, CT. She was 89 years old. She was predeceased in 2019 by her adoring husband of 61 years, media executive Herb Granath.
Maryanne Elizabeth Ott was born in Jamaica, New York to Frank and Anna Ott on November 12, 1932. Her family relocated to Brightwaters, NY where she graduated from Bay Shore High School. Upon graduation, she declined an art scholarship in order to pursue her passion for acting and moved to NYC. Much to her delight, she began work immediately and chose the stage name "Ann Flood," Flood being her own mother's maiden name.
Ann's career spanned four decades. Her Broadway debut in the musical Kismet in 1954 was followed by playing opposite Don Ameche in Holiday for Lovers. She was best known for her work on daytime dramas, beginning in 1958 on From These Roots and including The Edge of Night, Search for Tomorrow, Another World and All My Children. She enjoyed having the opportunity to play the villainess and the vixen, but her heart belonged to The Edge of Night where she was best known for playing heroine reporter and central character Nancy Karr from 1962-1984. At the show's conclusion, she was the longest-serving cast member and had been nominated for two Daytime Emmy Awards in the category of Outstanding Lead Actress in a Drama Series.
Her early career also included summer stock, industrials for Ford, Oldsmobile and Frigidaire, and commercials for everything from Life Magazine and Ivory Snow to Sterling Beer and Newport Cigarettes, among others. She also appeared in well over a dozen other shows, including Ed Sullivan, Steve Allen, Kraft Theatre, Annapolis, Armstrong Circle Theatre and Matinee Theatre. Later in her career she appeared on The Cosby Show as a woman of a certain age who, along with her husband, was shocked to find out that they were expecting a baby. She also appeared in the sleeper favorite movie Mystic Pizza as Polly Windsor, mother of Julia Roberts' character's wealthy boyfriend.
Ann's greatest joy, by far, was her large family. Nothing filled her heart like the many loud and laughter-filled gatherings they enjoyed throughout the years. Ann is survived by her brothers Kevin Ott of Blue Point, NY, Sandy Ott of Bay Shore, NY and her four children, Kevin Granath (Danielle), Brian Granath (Kathleen), Peter Granath (Elizabeth) and Karen Charlton (Michael), and eleven adoring grandchildren, Nicole, Caroline, Will, Terence, Gavin, Farrell, Benjamin, Amanda, Leigh, Jane and Nolan.
Visiting hours will be held on Thursday, October 13 from 4-7 p.m. at the Hoyt Funeral Home, 199 Main Street, New Canaan CT. A funeral mass will be held on Friday, October 14th at 11 a.m. at St. Aloysius Church, 21 Cherry Street, New Canaan CT. In lieu of flowers, please consider donating to one of the following charities or a charity of your own choosing:
Susan G. Komen for the Cure
877-465-6636
Wounded Warrior Project
877-832-6997