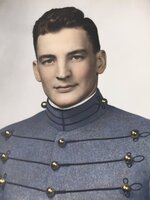 Henning Everett Drugge
In the early morning of September 27, 2022, Henning Everett Drugge, 91 years old, died peacefully in the home that he built. His wife of 65 years, Diane Drugge, released him to his heavenly home with his mother, Hulda Victoria Drugge, father, Arthur Linus Drugge, his big brothers, Arthur and Arnold, and his two older sisters, Larene and Mildred. "The Kid" as Arnold called him, was just about one of the greatest guys who lived, and while we are grateful that he is at peace, his family will miss him every day.
"Everett" (as he was called) was born on March 23, 1931, to Swedish immigrants in Montesano, WA. A natural athlete, Everett played soccer, basketball, baseball, and football; he excelled at the French Horn and loved music. He started his college career at University of Washington in the College of Engineering, but after his freshman year, he entered the military academy at West Point (USMA). There he met lifelong friends and comrades in arms. A stellar student, he graduated in the top 10% of his class as a member of the honor committee and company commander, but his proudest moment may have been kicking a soccer goal from the fullback position against NAVY in his senior year to win the game. West Point was a life-defining experience for Everett; he was a superior soldier and became an excellent structural engineer.
He met his wife, Diane, a young English teacher, in his last year at West Point, while playing soccer against Yale. The two began a courtship that lasted a lifetime, and he devoted his life to her and his family. After West Point, Everett served in Korea, writing every day to the love of his life, while overseeing engineering projects with the Corps of Engineers. Everett and Diane married in 1957 and travelled to Ithaca where he completed his MCE degree at Cornell University. Upon completion of his degree, Everett was hired by Hardesty and Hanover as a consulting engineer where he specialized in moveable bridges and became a partner in 1980. In 1993 he was awarded the Roebling Award from the New York City Metropolitan Section of the ASCE for eminence in design and rehabilitation of bridges. Of particular significance were his restorations of the Mianus River Bridge on I-95 in 1983 and Scoharie Creek Bridge on the New York Thruway in 1987 along with the competitive design for the Williamsburg Bridge replacement in New York City in 1988.
Having seen his first bridge on the day of his baptism at the age of 6, Everett was a bridge builder by trade and philosophy. He was always willing to work together to make his community better. Everett and Diane settled in Darien in 1962; he worked on many projects for the town: St. Thomas More Building Committee 1968-71, Environmental and Wetlands Commission 1984-86, Planning and Zoning Commission 2000-2004. In 1971, Everett built their home on Ox Ridge Lane and took care of the menagerie in the barn and in the house.
His family was his first and foremost thought. He was an exceptional husband, parent, grandparent, uncle, great-grandparent and adopted dad to many. He loved big family gatherings, even flying his young family out to the West Coast to stay connected to his family out there. He is the proud father of Elizabeth Diane (Steven Hobbs), Rhett James (Heather Dunn Drugge), Pamela Grace (John Rusk), Emily LeRoy (Sean Bryan) and his nephew, Bruce Smith (Roberta McCabe). Everett supported all their diverse interests: music, horses, medicine, theater, law, architecture, mechanical design, football, soccer, baseball, track, field hockey, and writing. He continued his support with his eleven grandchildren: Allison Hobbs Bailey (John Bailey IV), Thomas Hobbs, Henry Hobbs, Caroline Rusk Amoroso (Maj. Joseph Amoroso), Annie Rusk (Brian Humbarger), Julia Rusk, Grace Drugge, Frank Drugge, Katherine Drugge, Benjamin Bryan, and Phoebe Bryan. He was always at the sideline, by the pool, or in the theater proudly cheering them on with tears of joy in his eyes. His three great-grandchildren, Everett Amoroso, Claire Amoroso, and Jay Bailey enchanted him.
Everett was incredibly proud of his wife, Diane Drugge, who taught primarily in the Stamford Public Schools for 58 years. As partners, they demonstrated to their family a life of service, and always a commitment to Duty, Honor, Country. Go Army!
Always remaining active despite any physical challenges he endured, he recently documented his major project while in Korea by publishing a historical narrative: 1956 Building the Dyke at Wolmi-Do Island, Korea: A Request by Syngman Rhee for Protection from Further Invasions by North Korea Via Inchon Harbor.
In particular, the family would like to extend their grateful thanks to Alphonse Agbozo, Akemi Castillo, Jacob Futukpor, and Emilio Montero for their extraordinary care.
A funeral service will be held at St. Mark's Episcopal Church in New Canaan, CT on Friday, November 11 at 2PM, followed by an interment at West Point at a later date.
In lieu of flowers, the family suggests that donations be made in memory of Henning Everett Drugge, '54, to support the new Cyber and Engineering Academic Center (CEAC) at West Point. Mail: West Point Association of Graduates, c/o Gift Operations, 698 Mills Road, West Point, NY 10966 Online: https://www.westpointaog.org/giveonline. Or by Phone: 845-446-1658.