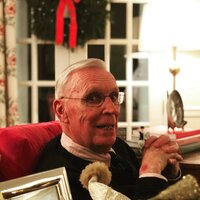 Edwin LeGard
Edwin "Ed" LeGard, Jr., 82, of New Canaan passed away suddenly on September 23rd at Norwalk Hospital. He was the beloved father of Whitney LeGard Williams of New Canaan and Prescott LeGard of Mission Hills, Kansas. He was preceded in death by his adoring wife of 51 years, Betsy, in 2016.
Ed was born on November 12, 1939, in Virginia to Pauline and Edwin F. LeGard, Sr. He was raised in Abingdon, Virginia and was a standout athlete in both baseball and football. He was the quarterback of the team and had his number retired. After high school he was awarded a full athletic scholarship to the University of Virginia to play on the football team and graduated in 1962 from the McIntire School of Commerce. While at UVA he was a member of the Sigma Chi fraternity.
Known as a brilliant investor, Ed began his career in Hartford, CT and then joined Connecticut General in 1968. He also worked at Putnam Investments in Boston before joining E.M. Warburg Pincus in 1980 where he became the President of the Investment Management division. At the time of his death, he was a partner of Neville, Rodie & Shaw and was still actively advising and investing until his passing.
Ed was a proud member of the Union League Club of New York and served as president for three years; a member of the Woodway Country Club in Darien; and was one of the founding members of the Quail Valley Club in Vero Beach, Florida. In addition to his passion for golf and all things related to the University of Virginia, he loved reading P.G. Wodehouse books and was a member of the Drones Club.
He is survived by his daughter Whitney (Nick) Williams and his son Prescott (Kelly) and five grandchildren: Victoria, Chase and Kent Williams and Henry and Libby LeGard. His cousin/siblings Betty Anne Cox of Frederick MD and William "Buck" Baker of Damascus OR. The family wishes to thank Andrew Stewart for being his trusted friend and aide in his later years. His presence was a joy to Ed, and he took great care of him.
A celebration of his life is planned for 3pm on Saturday October 8th 2022 at the Woodway Country Club 540 Hoyt Street, Darien, CT. The family invites friends to come and celebrate the life of a great man. In lieu of flowers, please consider a donation in his name to the New Canaan Volunteer Ambulance Company 182 South Avenue, New Canaan, CT 06840.