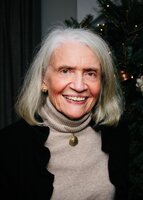 Marianne Ellefsen Rothballer
Marianne Ellefsen Rothballer, a 50 year resident of New Canaan, CT and gifted watercolor painter, passed away peacefully at home on September 4 after a courageous battle with breast cancer. She was 82 years old.
Marianne was born on February 13, 1940, in Brooklyn, NY, to the late Marie Rovik and Ole Ellefsen, who immigrated from Norway as young adults, met in Chicago and settled in Tenafly, New Jersey, where Marianne spent her childhood. Marianne graduated from Tenafly High School, where she was a majorette. She studied at Moore College of Art and Design in Philadelphia and graduated from Parsons School of Design in New York in 1960. She spent her early career in Manhattan working as a fashion illustrator for Women's Wear Daily and as a freelance illustrator for Fashions of the Times.
On February 19, 1966, Marianne married Roger Williams Rothballer, of Washington, DC, in Tenafly, NJ. Their courtship began at Magic Mountain in Vermont when Marianne broke her leg while skiing, and Roger found her on the mountain and helped her down to the lodge. This was the beginning of a 54 year marriage. Their daughters Karen and Kristin grew up in New Canaan and California, and both graduated from New Canaan High School. Marianne was involved in her daughters' lives throughout their formative years, always providing support with academics, art projects, extracurriculars, and early morning rides to the New Canaan Winter Club for training. Marianne also adored her three grandchildren and was a constant presence in their lives, attending school and sports functions, and passing along her wisdom and painting techniques.
Marianne and Roger loved to travel, especially to their favorite vacation spot in Virgin Gorda, British Virgin Islands. On a last visit to Virgin Gorda in December 2021 with her daughters, Marianne was welcomed and recognized by locals around the island. She celebrated a life well lived with Karen and Kristin painting on the beach, visiting with old friends, dancing to reggae, witnessing an extraordinary double rainbow, and exploring favorite spots around the island. She also maintained close relationships with extended family in Norway and visited many times over her lifetime, instilling a love for "homeland" in her girls. She loved her New Canaan home dearly, and enjoyed planting and tending to her garden, including the many resident and visiting birds and butterflies.
Marianne was a prolific watercolor painter throughout her life, and very active in the art community in and around Connecticut. Her watercolor paintings are immediately recognizable for their ethereal and effortless style. Beyond painting with her beloved Monday painting group for the past 20 years, Marianne was always rendering the world through pencil or paintbrush, whether she was painting on her favorite beach in the Caribbean, observing nature in her backyard, sketching her grandchildren or fellow patients at the Bennett Cancer Center. She was a perfectionist, and was able to observe and paint things that most of us didn't see. Marianne exhibited her paintings frequently and won numerous awards over the years in both national and regional juried shows.
A devoted wife, mother, and grandmother, Marianne is remembered by friends and family for her kindness, curiosity, and loyalty. She is survived by her daughter Karen Rothballer Seelert (Perry Seelert) of Wilton CT, daughter Kristin Williams Rothballer (Bess Bendet) of San Francisco, CA, and her beloved grandchildren, Perry Jackson, Kate, and Ian Seelert of Wilton. She was predeceased by her parents, husband Roger, and her sister Thora Ellefsen Rusch.
Karen and Kristin are grateful for the loving care provided to their mother by her devoted caregivers during the last 3 months of her life; she was determined to stay at home and refused to give up her independence for as long as possible. There was a private family service on Friday, September 9 at Lakeview Cemetery in New Canaan, CT. In lieu of flowers, donations can be made to Soul Ryeders in Rye, NY in support of people navigating life with cancer.