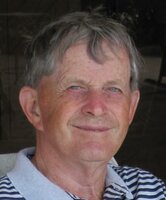 Richard W. Ettinger, Sr.
Richard ("Dick") Wayne Ettinger Sr.
Richard Ettinger, age 89, formerly of New Canaan, CT passed away the evening of September 9,2022, in Tequesta Florida.
Richard was born and grew up in Schenectady, NY and graduated from Mount Pleasant HighSchool in 1952. Richard worked for the General Electric Company where he met his life love Joan Audrey Korniak. Richard and Joan were married in 1953.
Richard served in the United States Air Force in 1953 and was stationed in Okinawa, Japan until 1957. Richard and Joan had three children Jill, Laurie, and Richard Jr.
Richard lived in New Canaan from 1963 until 2020. He was a member of Darien Country Club and loved the game of golf. He won the Darien Club Championship 11 times and was runner-up another 12 times. Richard also had 10 holes-in-one during his golfing career. He was also a member of the Connecticut Golf Club in Easton,CT.
Richard spent his winters in Jupiter Florida and subsequently in Tequesta Florida where he moved full time in 2020. He was a member of Jupiter Hills Golf Club in Jupiter Florida.
Richard was a successful entrepreneur and built several successful businesses including Carlan Inc, Contact, and Normandy all in the Housewares Industry.
Richard is survived by his wife Joan Ettinger who resides in Tequesta Florida, and his three children Jill, Laurie (husband Jamie) and Richard Jr (wife Margaret). Jill currently resides in Key West Florida, Laurie and Jaimie reside in Sherman, CT and Richard Jr and Margaret reside in New Canaan, CT.
Richard is also survived by 8 grandchildren Rebecca Borys, Justin and Brittany Conner and Maggie, Audrey, Richard III, Philip and Michael Ettinger as well as 5 great grandchildren.
There will be a wake held at Hoyt Funeral Home in New Canaan on Thursday September 22 nd from 4-7pm. A memorial service to celebrate Richard's life will be held on Friday September 23 th at 11:00am at St. Aloysius Church in New Canaan.
The Interment will follow at Lakeview Cemetery. To send on-line condolances to the family, please visit www.hoytfuneralhome.com
Words of remembrance by his daughter Jill:
Richard was an authentic person, he was "the real deal," and people enjoyed being in his company wherever he went. He had a great sense of humor in a subtle way, and one never knew when the next comical comment was coming. He was anything but a conformist when it came to "behaving" in structured settings and with friends or loved ones he enjoyed making jokes to diffuse the seriousness. He was also extremely compassionate and knew when seriousness was needed. Richard was quiet, focused and relentlessly ambitious (he was seldom found sitting still). He loved to polish his cars, care for his yard and was an organized person who followed through on his commitments. Richard did not do anything halfway. When his mind was made up he pursued his goals using whatever strategies would get him there, and did not take "no" for an answer. He basically made sure to be "a winner" in all his pursuits.
A notable quality about Richard is, regardless of the circumstances, he never complained and was always a true gentleman. Around the community in New Canaan Richard developed friendships in his daily life. Once his illness held him back (Parkinson's), people would always inquire about him, i.e. at the post
office, diner and barber shop, and they would send their regards.
Richard had a deep Love for his family. He desired to spend as much time with them as possible and was generous with them beyond measure. One year, in 2004 he treated the entire family, including children and grandchildren to a family vacation at "The Greenbriar" resort in West Virginia. Much golfing was had, there was a white water rafting trip and the natural beauty of the mountains was savored. This was a phenomenal experience for all.
Richard had a dog, "Max," from 2005 to 2020 who was truly his best friend. While Max started out as a family dog, Richard won him over carrying pockets full of Milk Bones and frequently giving him treats. Before long, Max became the boss of Richard. It was not uncommon for Richard to be seen driving around town with Max hanging out his window enjoying the air. And as with all people and creatures he loved, he spoiled him. Richard and Max were an inseparable duo.
The happiness of his family was a top priority for Richard. He always maintained a welcoming,lovable spirit and his presence will be sorely missed.