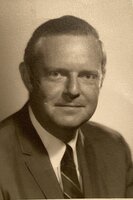 Harry Van Benschoten
Harry Van Benschoten of New Canaan, CT and Naples Fl died peacefully at his home on August 31, 2022 at the age of 94 1/2. Harry was the beloved husband of Mary Louise for 65 years and predeceased by her in 2016. He has been the beloved father of Thomas Van Benschoten, Claire Rische and Diana Locke. He has been the beloved grandfather of Sarah Cannavaro, Matthew Van Benschoten and Ellis and Stuart Locke. He has also been dearly loved by his daughter in law Lenore Van Benschoten and his two son in laws Charles Locke and Philip Rische. Harry will be buried during a private ceremony at Lakeview Cemetery in New Canaan, CT.
Harry was born in New York City on February 18, 1928. He attended Dartmouth College and enlisted in the US Army in September, 1946 through January, 1948 and served during the occupation of Japan after WWII. He returned to finish college and then continued on to graduate from The Amos Tuck School of Business Administration at Dartmouth College in Hanover, NH. The earlier part of his business career was spent with several accounting firms located in NYC as a Certified Public Accountant. After developing an expertise in accounting for mining companies, in 1967 he joined Newmont Mining Corporation ,an international mining company. He served as Corporate Vice President and Chief Accounting Officer until he retired in 1987.
Throughout his lifetime he volunteered his services to the Episcopal Churches in New Hampshire, Connecticut and Florida. He also served in leadership roles at both Woodway Country Club in Darien, CT and The Club at Pelican Bay in Naples, Fl. He participated in many industry organizations and sat on a few corporate boards during retirement.
Contributions in Harry Van Benschoten's in his memory may be directed to St. Mark's Episcopal Church in New Canaan, CT 06840 and earmarked for the Capital Fund or to a charity of your choice.