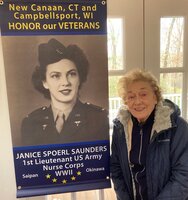 Janice Catherine Saunders
Janice Catherine Saunders, 101, of New Canaan, CT passed away at her residence on August 10, 2022, surrounded by family.
A member of "the Greatest Generation", her life provided her children, grandchildren, and great grandchildren with many stories of a way of life quite different from their own. Outhouses, horse-drawn sleighs, vegetables from their own garden and meat from local farmers which her father received in payment for his services as a blacksmith, were all part of her life story.
Janice was born in Knowles, Wisconsin on December 26, 1920, to Edward and Myrtle Schnurr Spoerl, with the doctor arriving by horse-drawn sleigh. She grew up in Campbellsport, Wisconsin, where her mother started the town's first library. She attended a one-room schoolhouse through Grade 8, before graduating into a two-room high school. Next came the University of Wisconsin in Madison, where her tuition was $25 per semester. She switched her major from music and graduated with a degree in nursing in order to enlist in the Army when the United States entered World War II.
In September 1944, she was inducted into the US Army at Camp McCoy in Wisconsin. She trained for service at Camp Ellis in Illinois, Camp Chaffee in Arkansas, and Fort Lawton in Seattle before boarding the USS President Johnson and heading to Pearl Harbor. Landing in Okinawa just after the strafing of the airfield, Janice served as a Lieutenant with the 75th Army Field Hospital treating injured soldiers from Iwo Jima, Saipan and Okinawa and surviving a typhoon that sank ships and destroyed their hospital.
She met Captain Edward L. Saunders of New York on a blind date and after a year of exchanging letters, they were married on April 13, 1947. Together for 58 years, they raised their four children. Through the years, she worked as a nurse, a teacher, a class-mother in her children's schools and as a swim parent. She remained an avid correspondent her entire life, writing to Wisconsin classmates, army pals, family, and friends all over the world.
Janice lived in Yonkers and North Salem, New York, and Ft. Lauderdale and Vero Beach, Florida before moving to New Canaan to be near her family. Pre-pandemic, she was a "regular" at South School's Veteran's Day Celebration where four of her grandchildren and four of her great grandchildren were students. On September 24, 2011, she was one of three women and eighty-five men who were honored for their service on the Southeast Florida Honor Flight to Washington, D.C.
Janice was predeceased by her husband, her son, David Saunders, and her granddaughter, Ruthie Saunders. She is survived by her daughters, Diana Sweitzer and Betsy Matheney of New Canaan, her son, John Saunders of Jerusalem, Israel, six grandchildren and ten great grandchildren, all of whom will remember her for her warm smile, generous heart, sweet tooth, sharp mind, and wonderful stories.
For online condolences please visit www.hoytfuneralhome.com. Donations in her honor can be made to Visiting Nurse and Hospice of Fairfield County (https://visitingnurse.net) or to the David E. Saunders Memorial Fund at Pine Crest School (www.pinecrest.edu).