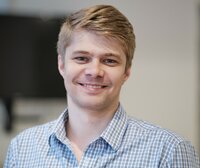 Nicholas Regan Zeiss
Nicholas Regan Zeiss, of Brooklyn, New York and New Canaan, passed away on August 7, 2022 after an extended illness. He was born on May 20, 1993 in New York City, the beloved son of Elizabeth and Michael Zeiss of New Canaan.
Nick is sorely missed and will be remembered by his family and friends for his many fine qualities, particularly his intelligence, sense of humor, and caring disposition.
Until moving to Brooklyn in 2021, Nick had been a lifelong resident of New Canaan. He graduated from New Canaan High School in 2011, where he was a National Merit Scholarship Finalist and a member of the cross-country team and Junior Engineering Technical Society. Following in the footsteps of his paternal grandfather, father, and elder sister, Nick continued his education at Dartmouth College in Hanover, New Hampshire, graduating in 2015 with a major in Physics. While there, Nick contributed to the online college newspaper, made fundraising calls to alumni, and served as a peer tutor for fellow students. He was also a member of Bones Gate Fraternity. One of his fraternity brothers remembers him as "this wildly funny, lanky guy, always armed with a mischievous grin and a witty response to any topic of discussion. The fact that he was blisteringly smart and usually idly crushing through quantum physics problem sets just added to the mystique."
After college, Nick pursued a career as a full-stack software engineer, working first independently and then for a New York-based technology startup. Nick's manager remembers him as "a wonderful colleague and friend. He was a generous and patient mentor to his junior coworkers, and he brought warmth and a wry sense of humor to everything he did. Even when the going was tough, there was no one you'd rather be in the trenches with. A thoughtful and wonderfully inventive engineer, he motivated everyone around him to do their best work. We'll all miss him."
He is survived by his parents, sister Madeline of New York City, and maternal grandmother Patricia Regan Ternes of Sherborn, Massachusetts.
For online condolences, please visit www.Hoytfuneralhome.com.