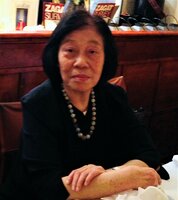 Rachel Chiang
Ms. Rachel Chiang (In), aged 84, residing in New Canaan, Connecticut passed away peacefully on August 27, 2022. She was born in Japan, grew up in Taiwan, came to the United States for her Masters in Education before entering the publishing industry where she spent the majority of her professional career, working for multiple major publishing companies, Wiley, Editor and Publisher, and Matthew Bender.
Rachel also started multiple publishing ventures and nonprofit efforts in education and to aid refugees. Rachel was proud to be Hakka, she represented New York City to the world's Hakka Association, was a bon vivant, loved life and had a full life travelling the world.
Rachel is survived by her children Yee-Liu, Weiyee, Peggy, Tom, Epo, her children in law, Glenn, Jennifer, Abbie and Kevin, her grandchildren Jamie, Russell, Harrison, Elizabeth, Ashley, Keegan and Alex.
A memorial service will be held in the chapel on Wednesday August 31, 2022 at 11:00 a.m. at Woodlawn Cemetery 4199 Webster Ave, The Bronx, NY 10470. Burial will follow memorial service.