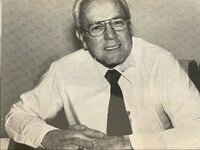 Donald Tiefenthaler
TIEFENTHALER, Donald Edward, age 96, formerly of New Canaan, CT passed away the morning of August 24Th 2022. He was a graduate of Wauwatosa High School (1943), attended Northwestern University for one year before joining the Navy as a radar tech first class on the destroyer USS Adams and was deployed to the Pacific Theater and then to Japan in 1945. He returned to Northwestern and graduated in 1949.
Donald was hired by IBM in 1950 starting in Evanston, IL, where he worked on the Air Force program and in Marketing. He was with IBM for 38 years.
He married his college sweetheart, Carlyn Virginia Jones, on May 5, 1951, and they were married for 71 years.
Donald is survived by his wife, his 7 children: Darcy Hightower, Kurt Tiefenthaler, Craig Tiefenthaler, Chris Tiefenthaler, Ross Tiefenthaler, Scott Tiefenthaler and Mark Tiefenthaler as well as 10 grandchildren and 4 great grandchildren.
He loved to play golf, travel, read, garden, and ski. Donald was also an amateur wood worker, photographer and consummate dog lover.
He was a dedicated and talented Boy Scouts of American leader of New Canaan Troop 1 and was loaned by IBM to oversee a fundraiser for the Regional Boy Scouts Council which emceed by Bob Hope and raised over $1.5M. Donald was honored with the Silver Beaver Award by the Boy Scouts of America.
He has lived in New Canaan since 1965, serving on the New Canaan Wetlands Commission and was a member of the New Canaan Men's Club and the New Canaan Country Club.
A memorial service will be held on September 1, 2022 at 11:00 a.m. at St. Mark's Episcopal 111 Oenoke Ridge, New Canaan, CT 06840 with reception to follow.
In lieu of flowers, please consider a donation to the Boy Scouts of America in Donald's name. https://donations.scouting.org/#/council/072/appeal/5315
Or you can donate to Norwalk Hospital. Support your Community Hospital (nuvancehealth.org)