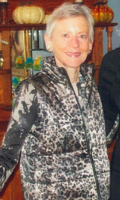 Patricia G. Stewart
Patricia "Pat" (Griffin) Stewart passed away peacefully with family by her side on the morning of July 27th, 2022 at the age of 79 after a short illness. Prior to her passing, she was comforted by family and friends at the Waveny Care Center in New Canaan, CT. The daughter of Evelyn Savage Griffin and George Wortham Griffin, Jr., Pat was born Patricia Evelyn Griffin on July 1st, 1943 in New York City, NY, and spent her early years in Schenectady, NY and Stamford, CT before moving with her family to New Canaan in 1954.
Patricia G. Stewart
During her years at New Canaan High School where she graduated with the class of 1961 and was voted Prom Queen, Pat or "Patty" as she was affectionately known, excelled as a student and divided her time among numerous extracurriculars. Pat attended Hollins University, where she studied literature, made life-long friends and graduated with Honors. During her junior year, Pat studied abroad with the Hollins University Abroad program at the Sorbonne in Paris, an experience that would stay with her throughout her life. Upon her graduation from Hollins in 1965, Pat continued her worldly travels, immersing herself in European art and culture, working on the Greek Line Queen Anna Maria cruise ship, eventually returning to New York City where she lived on the Upper East Side and took a position as Assistant Editor of Time Magazine's The Insider Newsletter. In 1967, she married NCHS classmate Lieut. Richard Cooley Stewart in New Canaan, CT.
Pat and Richard moved to Fort Polk, Louisiana, where Richard was posted in the military police and Pat taught at an underserved elementary school. Pat and Richard relocated to Hartford, CT in 1969, where Pat continued her journalism career, joining The Hartford Courant, Connecticut's largest news organization. Pat contributed scores of articles covering issues of local and national importance, rising to the position of editor and penning more than two dozen front page pieces (the last of which was published when she was nine months pregnant with her first son, Alex).
Pat and Richard returned to New Canaan in 1973, moving into their home on Turner Hill Road in 1975 where for the next two decades she served on the PTC, chaperoned field trips, attended every play, concert and sports event, and volunteered at her three sons' schools in various roles. Later as a beloved and committed member of the Congregational Church of New Canaan, Pat through her warmth and kind spirit touched the lives of so many, serving as Deacon and as a Stephen Minister. Pat selflessly devoted her time and energy to giving back to others and serving her community, volunteering for numerous local organizations and non-profits, including tutoring youth experiencing homelessness through Inspirica, volunteering for Safe Horizon's September 11th Disaster Relief Effort, and mentoring at-risk youths through Domus.
Pat never gave up her love of learning or her passion for literature, culture, music and art. She was a voracious reader, actively leading and participating in multiple book groups including the New Canaan Literature Society along with many of her dear friends. She was a consummate intellectual, pursuing courses and lectures on art, history, religion and more at Waveny's Lapham Community Center. She was a lover and aficionado of art, regularly acting as her own intrepid docent, embarking on self-guided museum and gallery tours through all corners of Manhattan and other art destinations.
Above all, she cherished her time with her family and friends. She will be remembered for her intellect, her radiant smile, her kindness and compassion, her sincere care for and interest in others' well-being, the grace with which she touched others' lives, particularly in hard times, her wry wit and sense of humor, her humility, and her indomitable inner strength and tenacity.
Pat is survived by a large and loving family including her three sons, Alexander Stewart (Suzanne) of New Canaan, Douglas Stewart (Julia) of New Canaan, and Patrick Stewart (Natika) of Phoenix, MD; and nine grandchildren, George, Meg, Scarlett, Audrey, and Griffin of New Canaan; and Henry, Greer, June, and William of Phoenix, MD.
Pat is also survived by her sisters, Gail Kincaide (William) of McLean, VA and Suzanne Hale (William) of New Canaan, as well as many nieces, nephews, grand-nieces, grand-nephews, sisters-in-law, brothers-in-law, and her cat Coco.
A celebration of Pat's life will take place on Saturday September 3rd, 11 am, at the Congregational Church of New Canaan.
In lieu of flowers, the family welcomes donations to Staying Put in New Canaan as an expression of sympathy.