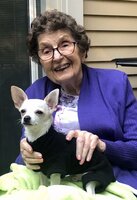 Margaret M. Lutostanski
Margaret M. Lutostanski passed peacefully on Sunday morning, July 24, 2022 at the age of 93 at Waveny LifeCare Center.
Margaret was the daughter of Marjan and Pauline Budesa. Born in the Bronx on September 30, 1928, she lived there for 90 years before moving to New Canaan, Connecticut, more than three years ago to be with her two daughters.
Margaret loved the Bronx, and after graduating Central Commercial High School, she worked as a book keeper for Electrolux and Sinclair Oil companies, where she enjoyed her career and made many friends.
Margaret was married to the late Joseph J. Lutostanski for 31 years. Once they started a family they decided that Margaret would be a full-time homemaker. She loved staying home and raising her two daughters, as well as aiding her parents who lived nearby. Margaret eventually went back to work at Alexander's Department Store and later, Community Board 10 in the Bronx, holding various clerical positions. She made great friends along the way and was still in contact with many of her colleagues. She finally retired at 85 but truly wanted to continue working because she enjoyed it so much.
Margaret loved taking trips to different countries with her friends through Our Lady Of Assumption Church in the Bronx, as well as traveling with her family throughout our great country. Fulfilling her bucket list in a visited Mt Rushmore only 10 years ago.
She was always involved with her children and grandchildren. She enjoyed baking, making dinners, going on trips, and watching her grandchildren who were involved in a variety of sporting activities throughout their lives as well as just being able to relax with them on weekends. Margaret loved and adored her family and would do anything she could for them. She was very proud of her daughters' and grandchildrens' accomplishments, and she celebrated with them often, always with love and affection. She looked forward to regular visits from her family. She will be missed by many.
Margaret is survived by her daughters and son-in-laws Diane and Pat Landri, and Karen and Randy Steele, as well as her grandchildren, Jason and Silvia Landri, Craig Landri and fiancée Lauren May, Lauren Landri and fiancé Kevin O'Donnell, plus her sisters Anna Dzielak and Carol Morrissey, and many nieces, nephews, and good friends.
Family and friends are welcome to attend Margaret's wake, Friday, August 5, 2022, between 3-5 pm and 6-8 pm at Hoyt Funeral Home, 199 Main St, New Canaan, Connecticut.
The funeral mass will be held on Monday, August 8, 2022 at 10:30am, at St. Matthews Church, 216 Scribner Ave, Norwalk, Connecticut, with the burial at Gate of Heaven Cemetery, 10 West Stevens Avenue, Hawthorne, New York.
In lieu of flowers, please consider memorial contributions to Notre Dame Health and Rehabilitation Center in Norwalk, Connecticut, and Waveny LifeCare Network, in New Canaan, Connecticut.