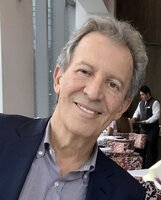 Stanley Norman Marder
Stanley Norman Marder (77) of New York, New York passed away peacefully on July 12, 2022 at his daughter's home in New Canaan, Connecticut with his loving family by his side. Born on April 6, 1945 in Boston, Massachusetts, Stanley was preceded in death by his parents, Benjamin and Mary Bloom Marder, and his brother, Frederick Marder. He is survived by his loving wife of 52 years, Joanne, his only daughter, Stephanie Marder (Vaughn), of New York, NY, her husband, James, and his beloved grandchildren. Also by his side over these last few months were Phoebe, May, and Grace, whom he called his angels; their kindness touched us all.
Joyfulness was one of Stanley's favorite words. He saw life as a wonderment of opportunity and experiences and attacked it with verve and purpose. He had a remarkable ability to make everyone around him as excited as he was about whatever he was focused on, no matter how big or how small. This innate magnetism that he had, his fearless embrace of challenges, and his ability to see not just one, but typically 2, 3, 12 steps ahead, allowed him to achieve great success in life. He started from humble beginnings and worked relentlessly to turn his dreams into reality, time and time again. Stanley started his first company when he was only 19 years old, fully supporting his family, and then never worked for anyone else. He followed a progression; each new venture brought the previous one to a new, and often unexpected, direction. From printing and creating forms, to data management, to the creation of video compression algorithms that allowed platforms like YouTube to exist, Stanley was always on the cutting edge, even up until the final days of his remarkable life. The underlying theme of his businesses was always in finding simple, elegant solutions for sharing information quickly and accurately.
But Stanley's focus was not only on work. He embraced all aspects of life with gusto and the theme of sharing information and gaining knowledge permeated everything. Stanley's favorite activities included walking throughout New York City and reading; he was always reading. He would read the entire New York Times, cover to cover, every single day of his life and, if you knew him at all, he probably sent you at least one article that you just "had to read." He reveled in sharing his knowledge and always maintained an almost childlike fascination with the world. Stanley also loved to travel, always wanting to see as many sights as possible and stay in the most magical of places. He spent several years on the beautiful island of Anguilla, building a wonderful group of friends there, and his heart belonged to the Puglia region of Italy. In his later years, he became focused on philanthropy and building a wonderful legacy for his family. He developed a passion for the National Trust for Historic Preservation and became convinced that if only people were better educated about the past and the way things work, the world could become a better place.
Stanley has most definitely left the world a better place and has had made an indelible mark on the future through his vision and generosity. His passion and voice will live on for generations.
A Memorial Gathering to celebrate Stanley's life will be held at a later date. He fought the cancer that eventually overwhelmed his body to the very end with the same zest that he lived his life. If you would like to make a contribution in his honor, please give to Memorial Sloan Kettering Hospital, the American Cancer Society or the National Trust for Historic Preservation. Or read a newspaper…it would make him happy.