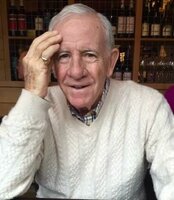 Thomas Joseph Hickey Jr.
Thomas J. Hickey, Jr. (84) of New Canaan, CT; formerly of Vero Beach, FL and Lake Forest, IL passed away on Sunday, June 26, 2022. Born on February 5, 1938 in Queens, New York, Tom was proceeded in death by his loving and devoted wife of 56 years Marita (Meisel) and his parents Thomas J. Hickey, Sr. and Ann (McEntee) Hickey.
He is survived by four daughters: Brianne Yontz (Mark) of Richmond Hill, GA, Christine Hickey of Darien, CT, Kelly Crawford (Scott) of Stowe, VT and Kathy Rudden of Norwalk, CT; brothers Brian Hickey (Phyliss) of Webster Groves, MO, Jim Hickey (Lisa) of Amityville, NY and sister Joan Urbanski (Tim) of Horsham, PA as well as his nine beloved grandchildren: Barbara, Jillian and Hannah Yontz, Madeline, Claire and Thomas Rudden, Julia Westerman, and Mac and Kevin Crawford. He also leaves behind several nieces, nephews and life-long friends, all of whom he dearly loved.
Tom was a United States Marine Corps veteran and a graduate of Brooklyn College, earning a Bachelor's Degree in Economics. His outstanding career with Sports Illustrated spanned three decades beginning as sales executive in 1967 and going on to lead Sports Illustrated offices in Cleveland, Chicago and New York working his way up the ladder to advertising sales director and eventually associate publisher and Olympic director before his retirement in 1997.
He was a life-long and loyal sports fan, bearing both the joy of victory and the agony of defeat of the New York Rangers, Giants, Mets and Knicks. His most memorable moment in sports history was being in Lake Placid, New York during the 1980 Olympics when U.S.A. Hockey Team Captain Mike Eruzione scored the winning goal as team U.S.A. defeated the Soviets in the semi-finals. A photo of the history-making goal appeared in the Sports Illustrated March 3,1980 issue and you can just make out the USA-behatted Tom in the background.
Tom relished life and lived it to the fullest enjoying time on the golf course, walking on the beach, swimming in the ocean where he was THE master body-surfer, volunteering for Habitat for Humanity and A Better Chance all while attending as many of his grandchildren's events as possible. He was an avid reader scouring several newspapers daily and books weekly. Tom never met a stranger and literally encountered someone he knew everywhere he went much to the chagrin of his friends. He rarely, if ever, forgot a name and was always quick to recall stories, most likely embellished, and jokes that average men would have easily forgotten.
In the end, he was a quintessential Irish Catholic kid from Rockaway Beach who was blessed to marry his high school sweetheart, raise his family, work his dream job, travel the world, retire and revel in the role that brought him the most joy, being "Poppi" to his grandchildren who adored him in return.
We would like to thank those who cared for Tom during the final years of his life. Most especially Ben and Anthony - our heaven-sent angels - as well as close-knit family and friends that continued to care and visit him during the "long goodbye."
Mass of Christian burial will be Thursday, July 14. at 10 a.m. at St. Aloysius Catholic Church 21 Cherry St., New Canaan, CT. The family will receive friends at 9:30 a.m. at St. Aloysius prior to the Mass. Interment will be private.
If you're unable to join us for the funeral, feel raise to glass with your favorite spirit (Tom's choice: Absolute Vodka), listen to Bruce Springsteen or The Rolling Stones, eat your favorite chocolate chip cookie, aka Poppi-cookie or donut, offer up prayer, smile and think of Tom.
Contributions may be made to either to: Memorial Sloan Kettering Cancer Center, http://mskcc.convio.net/goto/TheHickeys, or by mail to Memorial Sloan Kettering Cancer Center, Office of Development, Attn: Megan Berry PO Box 27106 New York, NY 10087 (in memory of Tom and Marita Hickey in the memo of check). Or, The Juvenile Diabetes Research Foundation (in the name of Mac Crawford), 120 Wall Street, New York, NY 10005-4001 JDRF.Org