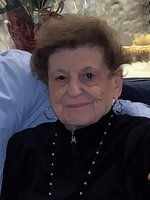 Sandra M. DeAsi
Sandra (Sandy) M. DeAsi, a lifelong resident of New Canaan, CT died peacefully on Wednesday, June 22, 2022, at the age of 95. She was the daughter of the late Thomas Mazzella and Mary Rossi Mazzella. She was predeceased by her husband of 64 years, Emilio (Mel) J. DeAsi, another lifelong New Canaan resident, and 4 brothers and 3 sisters. She is survived by her three children and three grandchildren. A son, Gary DeAsi and his wife Lisa and their son Gary Jr., of Duxbury, MA, two daughters, Lynn Ordnung and her husband Eric of Asheville, NC, and Dawn Dursee and her two sons Quinn and Colin of Westfield, NJ. She also leaves behind eight nieces and three nephews.
Sandy was born in Richwood, WV and moved to New Canaan at the age of 4.
She attended Center School, Saxe Junior High School and graduated from New Canaan Highschool in 1945. While working at the First National Bank & Trust Co., in downtown New Canaan, she met Mel shortly after his return from serving in the South Pacific in World War II. They were married at St Aloysius Church on June 21, 1947 and remained in New Canaan for the rest of their lives. Sandy went on to work at the Home Oil company as Credit & Sales manager where she worked for over 30 years retiring at the age of 70
Sandy loved cooking, gardening, and entertaining, however, her biggest passions were her family and friends. She loved them immensely and there is nothing she wouldn't do for them. Her door was always open and one of her greatest gifts was making all those around her feel special. As a result, she was always surrounded by friends of all ages and all walks of life.
She treasured New Canaan and was dedicated to making contributions throughout the years whether it was through volunteering on election day or joining efforts in helping to protect her beloved Mead Park, to name a few. She felt so strongly about preserving the essence of the town she loved so dearly.
A Funeral Mass will be held on Saturday, July 23, 2022, at 10:30 am., at St. Aloysius Church, 21 Cherry Street, New Canaan. A reception will immediately follow at Waveny house. In lieu of flowers please consider a donation to Meals on Wheels of New Canaan, PO Box 231, New Canaan, CT 06840-0231