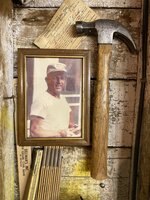 Donald P. "Don" Glen
Donald P. "Don" Glen passed away peacefully on June 7, 2022, just five days shy of his 96th birthday. Donald was born in Brockville, Ontario, Canada; the son of Charles Glen and Mary Angeline Scott Glen. Donald moved with his family to New Jersey at an early age, eventually relocating to Stamford, CT, where Donald spent much of his youth and attended Stamford High School. He did not complete his high school education as he was called to serve his country during WWII in the 42nd Rainbow Division. During his time in the U.S. Army, Donald served time in Germany, Austria, and Switzerland. Upon returning home from the service, his family had moved to New Canaan, which would become his hometown. Donald attended trade school to become a carpenter and quickly got to work building houses. He built several homes on Orchard Drive and nearby streets, occupying one of them with his first wife, Edna, from 1952-1954 when he purchased property on Sleepy Hollow Road. Donald constructed four homes on Sleepy Hollow with one becoming the home where they raised a family of five children. Donald continued to reside there until several years ago, when he moved to Brightview on New Canaan. While there, he made new friends, enjoyed his surroundings, and received extraordinary care.
Donald could be easily spotted driving through New Canaan heading toward Weed & Duryea, or to a customer's home, in his signature blue pick-up with custom made cap. Later he drove a van painted the same cheerful blue. Smiling, waving and with windows down, Donald whistled or sang a favorite country & western song. He continued building additions and making custom cabinetry, alterations and repairs for his beloved customers in New Canaan. With his master carpenter skills, Donald could recreate detailed moldings and make custom renovations to historic homes, in addition to designing and building a magnificent circular library and other remarkable projects. Donald's woodworking talents reflected his attitude of "If you're going to do it, do it right!" When the large and demanding carpentry jobs became overwhelming, Donald turned his skills to carving wooden birds to scale and painting them with beautiful detail.
Being outdoors tending his garden or splitting firewood were some of his favorite activities. Donald's green thumb and abundant vegetable garden were a source of immense pride and often the envy of the neighborhood. He would share gardening tips, trade seedlings, and assist others with springtime rototilling. And, with his love of singing and dancing, you might have found him at The Heritage, often stepping up to the microphone with friends in the bands of the day. Later in life, Donald would continue dancing with his beloved wife Anne, and they began to travel, with Alaska and the Grand Canyon being favorite destinations. He also enjoyed traveling back to Canada with his sister Jean to visit family there. Donald was also a faithful blood donor, reaching upwards of eight gallons donated over the years.
Donald lived a simple, but full life. He is predeceased by his parents, siblings Jean Glen and Robert C. Glen; and wife Anne (DeMassa) Glen. With his first wife, Edna C. (Glen) Weber, they raised and are survived by Robert K. Glen; Linda D. (Glen) Poole (Stephen Poole); Russell T. Glen; Donna E. Glen (J. Kevin Smith); and Peter D. Glen (Laura Glen). He also leaves behind his grandchildren Sarah Poole (Phil Provencher), Allison Poole-Cusano (Pat Cusano), Erin Sciame (Michael Sciame), Kimberly Hill, Lisa Glen, and Derek Glen (Rachael Glen), Riley Glen and Owen Glen. Donald also leaves behind four great-grandchildren: Maille Kimble, Fiona Cusano, Oliver Cusano and Lucas Hill.
The family extends its grateful thanks to the staff of Brightview on New Canaan, Angelic Elderly Care, and Constellation Hospice for their compassionate care of Donald during his final years.
Memorial and commitment services will be held privately. Condolences may be sent c/o Hoyt Funeral Home, 199 Main Street, New Canaan, CT. In lieu of flowers, the family is requesting donations to St. Jude Children's Research Hospital, Easter Seals or The American Red Cross, some of Donald's favorite causes.