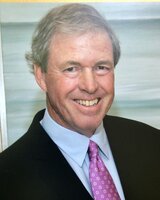 John Robb Mayo
John Robb Mayo (Robb), of New Canaan, CT and Vero Beach, FL, passed away peacefully on May 22, 2022, at the age of 79, surrounded by his loved ones. Throughout his battle with Parkinson's Disease, Robb portrayed courage, grit and perseverance. Despite this challenge, it was rare to see him without a smile.
He was born in Lancaster, PA on November 26, 1942, to Ruth Henderson Mayo and Robert Sprague Mayo. Robb graduated from Northwestern University and received his MBA from The Wharton School of Business at The University of Pennsylvania. He spent his entire career at IBM where he managed IBM's real estate portfolio. It was also at IBM where he met his future wife of 50 years, Susan Kapp Mayo. Until the end, he proclaimed they "were still on the honeymoon."
Robb and Susan settled in New Canaan, CT where they raised 3 children. Being a husband, father and grandfather was Robb's true passion and something he excelled at like no other. He loved coaching his children's sports teams, cheering them on from the sidelines, teaching his grandchildren to play golf and taking them on golf cart rides. In short, he loved to dote on his family. He had a wonderful sense of humor and delighted in playing practical jokes on his family and friends. If you were ever asked if you had Prince Albert in a can, it was safest not to respond.
Robb was passionate about his hobbies which included playing golf, flying airplanes, riding his motorcycle, listening to country music and fervently supporting the Northwestern University football team. Go Cats! He also had a deep and unwavering faith in God and was an active parishioner at St. Mark's Episcopal Church in New Canaan.
Robb is predeceased in death by his parents, Robert and Ruth Mayo, along with his brother, Ned Mayo. He is survived by his wife, Susan Kapp Mayo of Darien, CT and Vero Beach, FL; his sister, Lynne Mayo Kaufman and her husband, Senator Ted Kaufman of Wilmington, DE; his sister-in-law, Janet Mayo of Whitefish, MT; his three children and their spouses, Julie and Tom Bradbury of Atlanta, GA; Christy and Adam Hahn of New Canaan, CT and Scott and Erin Mayo of Atlanta, GA; his 9 grandchildren; and numerous nieces and nephews.
A funeral service will be held at St. Mark's Episcopal Church in New Canaan, CT on June 3, 2022, at 11:30 am. In lieu of flowers, the family asks for donations to The Michael J. Fox Foundation for Parkinson's Research (michaeljfox.org).