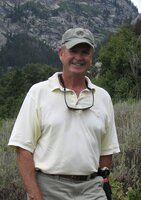 Philip Harold Martyr
Philip Harold Martyr (82) passed away peacefully surrounded by family on May 22, 2022, after a long, brave and determined battle with frontotemporal dementia. Phil was born on New Year's Day in 1940 to Thelma Holmlund Martyr and Harold Arthur Martyr in Buffalo, New York. He grew up in Buffalo and East Aurora, New York, and in Delray Beach, Florida.

Phil attended the Nichols School in Buffalo, where his lifelong love of hockey began, and Ridley College in Saint Catherines, Ontario, Canada for his high school years. Following in his father's footsteps, Phil graduated from the Wharton School at the University of Pennsylvania where he also played hockey and was a member of Saint Anthony's Hall fraternity.

Phil's professional career was spent primarily at Champion International. While working as an assistant to the chairman, he was recommended for a position in the Nixon White House. He treasured those years and his international travel on behalf of the administration.

Phil was an avid and gifted sportsman. In addition to playing hockey well into his sixties, Phil enjoyed golf, tennis, squash, running, fly fishing, wind surfing, skiing and sailing. He crewed for several years on a yacht, the Wahini, which won many New York Yacht Club races. Phil shared his love of sports and adventure with his children, by teaching them, coaching their teams and traveling (at times, long distances) to watch them compete.

Phil was a proud member of the U.S. Marine Corps Reserve. He was also a member of The Apawamis Club in Rye, New York; the Field Club and the Winter Club, both in New Canaan, Connecticut; and the Country Club of New Canaan. In addition to coaching hockey at the Winter Club, he was a member of the board.
Phil loved his friends, sports, and walks with his beloved golden retrievers Topper and Henry. He had a wonderful, dry sense of humor and was game for any adventure. Most of all, he loved his family, his wife of 42 years Lavillon (Leigh) Elise Morrison Martyr, his son Scott Alexander Martyr, his daughter Anne Morrison Martyr, her husband Francesco Maria Citoni and his granddaughter Vittoria Elise Citoni.
Phil is also survived by his sister Judith Martyr Larkin, his nieces Melissa Larkin Crowell and Molly Larkin Bohanan of East Aurora, New York, his nephew Charles H. Larkin, IV of New York City, his great niece Klee Larkin Van Schoonhoven and great nephews Schuyler Larkin Van Schoonhoven, Larkin Read Bohanan and Read Hubbard Bohanan.

Always a gentleman, Phil was beloved by all who knew him and will be sorely missed.
A memorial service will be held on Tuesday, May 31, 2022 at 11:00am at the Congregational Church of New Canaan, followed by a reception at noon at the Country Club of New Canaan. All are welcome to come and celebrate Phil's life with his family and friends.
In lieu of flowers, donations in Phil's honor can be made to the Association for Frontotemporal Degeneration (AFTD) or the Congregational Church of New Canaan.