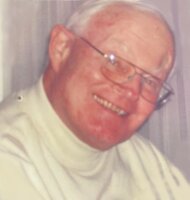 Donald John Usher Jr.
Donald John Usher, Jr. 87, of Cape Cod, formerly of New Canaan, CT passed away peacefully with his loving wife, Elaine Hanson Usher, by his side. He was born in Troy, NY. to the late Donald John Sr. and Nora (Greely) Usher.
Besides his wife Elaine, Don is survived by his son, Jason Donald Usher; granddaughter, McKenna May Usher; grandson Broderick Hanson Usher; brother-in-law, Karl (wife Pat); and sisters in law; Karen, Laurie and Beverly; godchildren, Markus Swartout, Theresa Boos, Elizabeth (Whitney) Schwalbe, Susan Levander and several nieces, nephews, grandnieces, and nephews. He is predeceased by his brothers Robert, Charles and sister Salann. He was raised in Torrington, CT, graduated from Torrington High School and married Elaine his high school sweetheart in 1956.
He enlisted in the US Navy in 1955 and served four years as a Navy Medic at the Charlestown, MA Naval Hospital and aboard the USS Renville in the South Pacific. He graduated from the Cleveland Institute of Technology and received an MS in Science (Biology) from the University of Bridgeport, then studied Marine Biology at the University of Oregon.
He taught at the University of Bridgeport, then joined the faculty at New Canaan High School as a Biology teacher and served as the Department Head for several years. He was an Assistant Football, Track and Basketball Coach and then became Varsity Basketball Coach from 1976-1995.
Don was a fan of UCONN Men and Women's Basketball, enjoyed skiing, suffered playing golf, tending his Rose Garden, fishing for stripers, singing with the Mid Cape Chorus and attending Cape Symphony concerts. His most favorite thing to do was to spend time with his wife, son and grandchildren.
He was a member of the New Canaan Old Timers Association, a member and usher at the Church of the Holy Spirit, Orleans, MA, a member of the Romeos Lunch Group (Retired Old Men Eating Out), Mid Cape Chorus, and Mid Cape Men's Club.
Family and friends will be welcomed on May 31, 2022, from 3-7 pm at the Hoyt Funeral Home, 199 Main Street, New Canaan, CT 06840. A funeral will be held on Wednesday, June 1, 2022 at 11 am at St. Mark's Episcopal Church, 111 Oenoke Ridge, New Canaan, CT 06840. Internment will be private.
In lieu of flowers, the family suggests donations to:
Amedisys Foundation (Hospice)
3854 American Way, Suite A
Baton Rouge, LA 70816
Cape Cod Mid Cape Chorus
c/o Ann Berg, Treasurer
40 Viking Drive
South Dennis, MA 02660
American Cancer Society
P.O Box 22478
Oklahoma City, OK. 73123