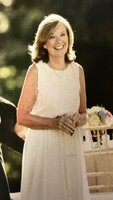 Stephanie Antoszewski
Stephanie Margaret Antoszewski died peacefully on May 13, 2022, aged 73, at her home in New Canaan, Connecticut after a short battle with cancer, and a longer struggle with Alzheimer's disease. She was surrounded by her family.
Stephanie, the only child of Harold and Joan Fossett, was born on July 20, 1948, in the small village of South Mimms on the outskirts of London, England. She grew up at the bottom of a country lane, opposite a farm, and here was formed her lifelong love of animals and long walks. On April 4, 1970, she married Jurek Antoszewski in London, and they relocated to the United States in 1975 where they raised their children, Claire and James.
Stephanie lived enthusiastically and generously. She shared her compassionate spirit as a teacher at St. Mark's Nursery School and volunteered at numerous organizations including Horizons at New Canaan Country School, Pegasus Therapeutic Riding, Literacy Volunteers and Malta House. It was her almost 20 years spent volunteering on the oncology floor of Stamford Hospital that she felt most fulfilled. For this work she was recognized by the Spirit of Planetree Caregiver Award in 2011. S
tephanie loved books, theater, cups of tea, and gardening. She traveled widely and adventurously, and usually preferred to be outside, in motion - sailing, riding, swimming, or walking her dogs. She was an extraordinary grandmother who took great delight in sharing her joyous and playful spirit with her grandchildren.
Although firmly rooted here in the US, England remained forever home. She visited several times a year to see family and keep in touch with childhood friends. Stephanie loved to entertain and engage in what she called "the lost art of conversation." Those who sat around her table were regaled with colorful stories filled with pleasantly hyperbolic passion, laughter, excitement, and kindness.
Stephanie is survived by her husband Jurek, her two children, Claire and James, Claire's partner, Will Grant, her daughter in-law Jennifer, and her two grandchildren, Eloise and George.
A funeral service will be held Followed by a reception at on May 31 at 11:00 am at Saint Thomas More Church Noroton Yacht Club 374 Middlesex Road 23 Baywater Drive Darien, Connecticut Darien, Connecticut https://www.stmdarienct.org https://www.norotonyc.org