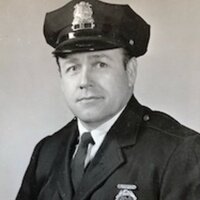 Lloyd C. "Cookie" Cook Jr.
On Wednesday April 27, 2022, Lloyd C. Cook Jr. "Cookie" 94 years old of Bridgewater Corners, Vermont passed away at Dartmouth Hitchcock Medical Center after a brief illness.
Lloyd (Cookie) was born on November 29, 1927 to Lloyd C. Cook and Hazel (Harlow) Cook of Wareham, Mass.
After graduating High School in Apponaug, RI, he left home and enlisted in the Military. He served in the Merchant Marines, the U.S. Army, and the Army National Guard from 1943 to 1956. He left the service with an honorable discharge as a SFC E-6 having served in World War II and the Korean War.
In 1954 he met and married his wife, Ruth (Kasper) they settled in New Canaan, Connecticut and together they had 2 children; Lloyd and Nancy.
Cookie began his career as a New Canaan Police officer in 1956 and was a proud member of the force as it showed with numerous commendations he received during his years of service.
Cookie was one of the first officers to attend the Recruit training school. He was one of the first EMT's in the New Canaan Police Department. He was inducted into the New Canaan Rotary Club, he was a member of the New Canaan Grange and also a member of the Harmony Lodge No. 67 AF and AM; he later became the Master of Harmony lodge. He was a scout master of Troop 70, and a member of the Connecticut Police Square Club. His activities in the Police department also included coaching the boy's football and softball teams sponsored by the P.A.L. and the Babe Ruth League for boys. He continued to give back to the community after his retirement in 1977 from the police dept. by driving the "Getabout" van for many years.
Cookie always enjoyed his time with family and friends: He enjoyed the annual Scottish Games and participated in the caber toss, family trips to Florida, a summer in Europe with family, relatives and friends, trips to Aruba, and mostly, all the time in Vermont, camping, hunting, hiking and snowmobiling, and building his future home. He was an avid UConn girls' basketball fan and the Boston Red Sox. He enjoyed his daily trips to the local diner for breakfast and visit with friends. Cookie was also a direct descendant to Sgt. William Harlow of the Mayflower.
He was predeceased by his Father, Lloyd; his mother, Hazel; wife, Ruth (Kasper) Cook, his sisters Glenna Stanton and Beverly Ackerly. He is survived by his children, Lloyd Cook (Jill) and Nancy Owens (Mark) and his sister Charlotte Pellegrino and many nieces and nephews, and extended family.
A Memorial Service will be held on Saturday June 11, 2022 at 12:00 p.m. at Hoyt Funeral Home 199 Main Street, New Canaan, CT 06840. A visitation will be held from 10:00 a.m.- 12:00 p.m. prior to the service.
The family would prefer a donation to a local organization that supported Cookie instead of flowers. The Thompson Senior Center; Woodstock, VT. Woodstock Fire & Rescue, and the Bridgewater Fast Squad.