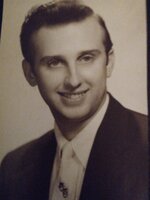 William L. Kelley
William L. Kelley, 85, of Brooklyn, CT, passed away on March 4 after a lengthy illness with his adoring family by his side. Bill was born on June 11, 1936, in a farmhouse built by his father on Crystal Street. Bill was predeceased by his parents Nardine (Macchio) Kelley and Anthony Kelley as well as his eight brothers and one sister.
He was a graduate of New Canaan High School. Early on he worked as a mechanic and for Hocon Gas. He then became a dedicated police officer and EMT for the Town of New Canaan for almost 20 years. His love of service, sports, and children led him to coach baseball in town for many years. He also started the first girls softball league in New Canaan. He was a great athlete himself and a diehard Yankee fan. Brought up on a farm, he was an avid gardener and spent countless hours with his children in his incredible vegetable garden, one of his favorite places to be, and to sit at Bill's table and eat one of his incredibly delicious meals was truly a labor of love and enjoyed by all.
He is survived by his loving wife Claudette (Muraro) Kelley of 63 years and his children Claudia Meade of Woodbury, CT, Toni Costa (Brian) of Turners Falls, MA, William Kelley of White Plains, NY and James Kelley (Lisa) of Woodstock, CT. He was worshiped by his 10 grandchildren, who in his eyes could do no wrong as they hung on his every word." Pop-Pop" is also survived by 3 great grandsons and several nieces and nephews that were like his own.
Calling hours will be Thursday, March 10, from 3:00-7:00 pm, at Hoyt Funeral Home, 199 Main Street, New Canaan, followed by a mass of Christian burial on Friday, March 11, 2022 at 10:30 am at St Aloysius Church in New Canaan. In lieu of flowers, contributions may be made to Our Heroes Fund at ourheroesfund.org or St. Jude's Children's Research Hospital at stjude.org