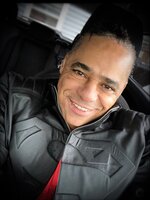 Lorenzo Dion Lee
Lorenzo Dion Lee "Renny", 58, of Norwalk, CT passed away suddenly on January 27th,2022 with his loving wife Linda Fakundiny-Lee and family at his side. It was God's blessing to bring Linda and Renny together in marriage, a perfect love.
Renny was full of life, song, laughter but most importantly having a deep and undying love for his family.
He enjoyed the peace of the family sharing love with one another, it brought tears to his eyes to watch them in action.
He had a very strong faith in Jehovah above, and the life everlasting. He is with no doubt, singing for family in heaven right now, elated to see the ones that have passed before him. He is mostly likely holding them in one of his generous, long and heartfelt hugs.
Renny was a fantastic Engineer, Composer of Music, Plays, Children's songs like "Here is for Frankie" and so many others. He was so happy when he designed and patented the "Renny Rocker" ©, a tipless rocking chair for children, with the help of his great-nephew, little Frankie who was constantly by his side working out the details as it was created.
Renny was born in Waterbury, CT to the late Daniel Joseph Lee and Juanita Ingram Lee.
He leaves behind his beloved siblings, Lonnie, Darryl, Jessica and Daniel Jr. , and all of the extended Lee families which he loved so dearly. His sister-in-law Hanne and Frank Billowitz, their 4 children Erika, Heidi, Frank, and Mike along with their spouses, along with great-nieces and great-nephews that adored him, as did he them with a love so strong for all of these family members, that it will always be felt, even from heaven. He was also so happy to recently reunite with his longtime best friend, David Soto, who he loved like a brother.
Renny was a hard-working man, that always came home with a smile to see his "Papa" (father-in-law Albert Fakundiny) whom he loved so very much and would do anything to protect and keep him safe.
He and his wife Linda were inseparable and loved to sing to each other. A match made in heaven.
He brought so much joy, laughter and love to all who knew him, and his presence and abundant love will be greatly missed by all, especially his wife Linda. I know he will be watching us from above.
Until we meet again in heaven my boo-boo, my one and only Superman. I love you, my Forever Love.