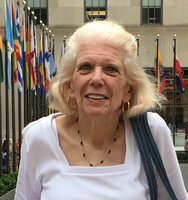 Cornelia Ann Fairty
Cornelia (Corky) Ann Fairty, 76, of New Canaan, CT passed away on January 13, 2022, at home with loving family members by her side. Corky was born on July 29, 1945, in New York City to the late Cornelius Donnelly and Margaret Stafford Cornell. She married Robert (Bob) Fairty on April 28, 1972, and went on to have two children, who were the center of her life.
Corky attended Epiphany Elementary School and Notre Dame High School in New York City before moving to Carmel, NY where she graduated from Carmel High School in 1964. Corky always had a head for numbers and while her children were young, she worked as a bookkeeper for various residents of New Canaan. In 1989, she started working for Bird Bonette Stauderman Inc. where she ultimately became the Chief Financial Officer. Corky retired in 2019 but stayed on with the company as a consultant.
Corky supported her community in numerous ways throughout the years, but most loved being involved with her children's activities. While her children were in school, Corky could be found on the PTO, running book fairs, and flipping pancakes at fundraisers. Corky was also an active member of the United Methodist Church of New Canaan where she volunteered with Midnight Run, traveled to Mississippi to help rebuild houses in the wake of Hurricane Katrina, and served on various committees alongside dear friends whom she considered family.
In her free time, Corky enjoyed spending time with family, especially her grandchildren. Corky also spent countless hours creating beautiful keepsakes for her family and friends by knitting and crocheting blankets and creating beautiful works of cross stitch and needlepoint. Corky was also famous for her apple butter and apple jelly that she made from scratch from an old Fairty Farm recipe.
Corky is survived by her children; Marc (Katie) Fairty of Orange, CT; Megan (Jeff) Easler of Zionsville, IN; her five grandchildren – Ella and Ryan Fairty and Abigail, Norah, and Raymond Easler; her brothers Peter Donnelly of Boston, MA and Marc Donnelly of Estacada, OR; her sisters Susan Burns of North Kingston, RI and Deidre (Amy Purdue) Donnelly of Richmond, VA; as well as numerous nieces, nephews, cousins, and dear friends. She is predeceased by her loving husband of 47 years; her parents; her stepfather Steven Cornell; and her brother-in-law, Gerry Burns.
There will be a celebration of life service at the United Methodist Church of New Canaan at 2pm on Saturday, January 29, 2022.
In lieu of flowers, the family is asking for donations to be made to Waveny LifeCare Network or the United Methodist Church of New Canaan.
For online condolences and directions please visit www.hoytfuneralhome.com.