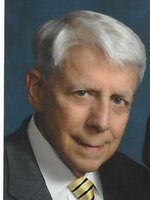 Jeffrey J. Hodgman
Jeff passed away on January 3, 2022. He was born on August 19, 1943, the second of four sons to Daniel and Margaret Hodgman. He lived in Grosse Pointe Woods, Michigan until he left home for college in 1961. Jeff graduated in 1965 from the College of the Holy Cross and received an MBA from the University of Michigan in 1966. He completed the 89th Advanced Management Program at the Harvard Business School in 1982. He and his family moved to New Canaan, CT and joined St. Aloysius Parish in 1983.
Jeff joined MetLife in 1966 as a financial analyst in the Corporate Investments Department and spent his career there until he retired in 2004 as Executive Vice-President. Except for four years overseeing a Midwestern Investment office in Chicago, he spent his entire business career at the MetLife Home Office in New York overseeing a number of Investment areas, Corporate Planning, Quality and Business Economics. He was for six months interim CEO of State Street Research and Management. He represented MetLife on a number of Creditor Committees. Jeff was a Director of Metropolitan Property and Casualty Insurance Co. He was also Chairman of the Retirement Plan Investment Advisory Committee, which was responsible for investments of the MetLife pension plans and other employee benefit plans.
After his retirement, Jeff became Chairman of the Investment Advisory Committee of SVG Diamond Private Equity plc and SVG Diamond Private Equity III plc, both headquartered in the UK. Jeff was a member of the Investment Advisory Committee for the lay Pension Fund of the Archdiocese of New York, a trustee of both Catholic Charities of New York and ArchCare, the health care foundation of the Archdiocese. He was also a member of the Board of Governors of Milano, the New School University unit for Management and Urban Policy. He was a member of the Woodway Country Club, the Exchange Club of New Canaan, the New Canaan Men's Club, and Staying Put in New Canaan.
Surviving Jeff are his wife of 55 years Betty (Law), his three sons Michael of Spring Lake, NC, Peter (Beth) of Elmhurst, IL, and David (Paula) of Berwyn, PA, and his three grandchildren, Kate, Will and Manuel. Also surviving him are his three brothers, William (Mary Rose) of Grosse Pointe Park, MI, Philip (Sue) of Chicago, IL and Dr. Mark (Jane) of Milton, MA.
A funeral Mass will be held at St. Aloysius Church in New Canaan on Monday January 10 at 12:00 pm, accompanied by a live video stream. A celebration of Jeff's life will be held later in the year.
Contributions may be made in his memory to ArchCare online at archcare.org/donate or by mail to 205 Lexington Avenue, NY, NY 10016.
To watch the Mass live please visit: https://boxcast.tv/view/memorial-mass-for-jeffrey-j-hodgman-cfmbgwbpajb9n06rkxek