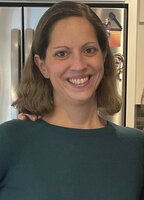 Claudia Monaco
Claudia (Palladino) Monaco, 43, of New Canaan, CT passed away peacefully on December 16, 2021 at her home with her loving family by her side. Claudia was born on October 14, 1978 in Norwalk, CT to Amalia (Casole) Palladino and the late Lorenzo Palladino.
Claudia was a 1997 graduate of New Canaan High School. She then went on to receive her undergraduate degree from the University of Connecticut and her master's in education from Sacred Heart University. She was an avid parishioner of St. Aloysius Church in New Canaan where she taught religious education. She loved spending time with her family and friends. She loved the holidays and baking cookies with her children. She loved watching made for TV movies with her husband. One of Claudias favorite summer pass-times was going to the beach or community pool with her kids, nieces, and nephews.
Claudia was a beloved and well-respected member of her community in New Canaan. She spent 20 years as an educator where she touched and impacted the lives of many children and families. She started her career at East School and for the past 10 years she has taught Kindergarten. Her strength and perseverance will be remembered by all. Especially her smile, that would brighten up a room. Claudias caring spirit and generous heart could be felt by anyone she met. She had a special gift of not only seeing the good in people but bringing out the best in them as well.
Claudia is survived by her devoted husband, Anthony Monaco of 18 years. Her cherished children, Marco (11), Luigi (9) and Sofia (6). Her loving mother, Amalia (Casole) Palladino of New Canaan. Her beloved in-laws Gaspare and Pina Monaco of Norwalk. Her dear sister Maria Baptista & husband Trevor of Fairfield. Her dear brother Lorenzo Robert Palladino & wife Kylie of Fairfield. Her brother-in-law Camillo Monaco & wife Angie of White Plain, NY. Her loving nieces and nephews Isabella & Lucas Baptista, Alexa, Jason and Nicholas Palladino. Her many aunts and uncles and cousins. She is pre-deceased by her father Lorenzo Palladino.
The family will receive friends at Hoyt Funeral Home, 199 Main St, New Canaan, CT on Sunday, December 19, 2021 from 1-5pm. A Mass of Christian burial to celebrate Claudia's life will be held on Monday, December 20, 2021 at 9:30am at St. Aloysius Church, New Canaan, CT (Friends please meet directly at church). The mass will be live streamed, you will find the link below. Interment will follow at St. John's Cemetery in Norwalk, CT. For online condolences and directions please visit www.hoytfuneralhome.com. https://boxcast.tv/view/memorial-mass-for-claudia-monaco-fgfaomazqxuhz23xv23x
In lieu of flowers, donations can be made to the Monaco Family or the Monaco GoFundMe. (https://gofund.me/d24801f1). A portion will be donated to Thymic Carcinoma research.