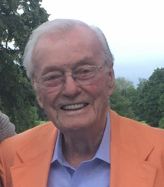 John Francis Toner
John F. Toner passed away surrounded by family and friends on December 14, 2021 in New Canaan, CT after a brief illness following a hip fracture.
Jack was born September 25, 1926 in Providence, Rhode Island to Edward and Florence Toner. He grew up in Elmhurst, NY and attended Brooklyn Prep where he formed lifelong friendships with James and Neill McAllister. They set him up on blind date in 9th grade with their cousin Marjorie and 60 years later she became his second wife.
He served with the US Navy during WWII in the South Pacific attached to the Seabees where they recognized that his talents lay in connecting with people and put him in charge of morale rather than construction. When discharged in July 1946, he enrolled at Mount St Mary's in Emmittsburg, MD. Upon graduation in 1950 with a BA in Economics, he worked in sales for Dan River Manufacturing in St Louis, MO. He then joined the Cleveland office of Avondale Mills where he formed lifelong friendships with his Shaker Heights roommates. He moved on to Avondale's New York office where he would spend the rest of his career rising to become Senior Vice President of Sales and Marketing. Throughout his career, he was known for making deep and lasting friendships with customers and co-workers alike.
In 1964 he married Tommye Comer and they lived in New York City, then Armonk, NY and finally for 23 years in Pound Ridge, NY while they raised their daughter Ann. They had a wonderful and deeply loving marriage and formed many friendships there and at Waccabuc Country Club where he was a member since 1972. Tommye was a fashion publicist for Simplicity Patterns when they met on a blind date in Kansas City in the 1950s and she was a talented sculptor for her last 20 years. After her death in October 1996 he moved to New Canaan, CT.
He married Marjorie McAllister in October 2000 and they divided their time between Ridgefield, CT and Palm Beach, FL where she made sure his retirement life was as robust as his working life had been. They were also deeply involved in the lives of Ann, her husband Richard Gervase and grandchildren Katie and Will. Marjorie died in January 2018.
Jack is survived by his daughter and her family, his younger brothers Robert and Paul, and his beloved niece Barbara Demarest, daughter of his deceased elder brother Edward.
The family is deeply grateful to the staff and residents of the Greens at Cannondale in Wilton, CT where he lived so happily for the last 15 months of his life. In that time he was able to see his family in New Canaan, be reconnected with many old and dear friends, and enjoyed the bridge players of Waccabuc Country Club and Wilton Senior Center for many happy and engaging hours together.
A Mass of Christian Burial will be conducted at 10am on Tuesday, December 21 at St. Aloysius Church in New Canaan, CT followed immediately after by interment at Lakeview Cemetery. A celebration of his life will be held in the Summer of 2022.
In lieu of flowers, memorial contributions can be made to Mount St. Mary's University at www.msmary.edu/give or mailed to University Advancement, 16300 Old Emmitsburg Road, Emmitsburg, MD 21727. Please indicate the gift is in memory of Jack Toner.