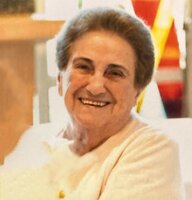 Clotilde Greco
Clotilde Greco 100, of New Canaan, CT, passed away peacefully surrounded by her loving family on November 28, 2021. She was born on April 26, 1921 in Manhattan to Maria Rizzotti and Rocco Calogero. Clotilde was the beloved wife to the late Dominick Greco.
She married Dominick Greco on November 20, 1949 at The Hotel Breevort in New York City. They moved out of Manhattan and to the north Bronx where they raised their family. Clo was the matriarch of her family and their guiding light and inspiration. She was an avid reader and read 4 books a week.
Clo is survived by her daughters Karen Ceraso(Anthony) of Stamford, CT and Robin Sulla(Michael) of New Canaan, CT and her grandchildren Jordan Ceraso(Aimee), Alexander Ceraso ( Agnese), Andrea Ceraso, Michael Sulla and Matthew Sulla. She was blessed with two great grandsons Enzo and Beau and one baby due in a few weeks, and many nieces and nephews.
She was predeceased by her parents her brother Bruno Calogero(Peggy) sisters Connie, Josephine Hyatt ( Jimmy)and Frances Pepe (Louis).
A Mass of Christian Burial will be held on Wednesday, December 1, 2021 at 10:00 a.m. at St. Aloysius Church, 21 Cherry Street in New Canaan. The family will be receiving friends and family on Tuesday, November 30, 2021 from 4:00 to 8:00 p.m. at Hoyt Funeral Home 199 Main Street, New Canaan, CT. Entombment will take place following the Mass at Lakeview Cemetery in New Canaan. A celebration of her life will follow at The Roger Sherman Inn.
Clo was a supporter of the American Cancer Society a donation to them or the Susan G. Komen Breast Cancer Fund would be appreciated