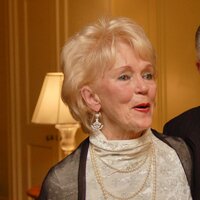 Jeanne Marie Hersam
Jeanne Hersam, devoted wife, mother and "Nana"
Jeanne Marie Hersam (Nee: O'Rourke) passed away November 6, 2021 at Norwalk Hospital.
Jeanne was born April 27, 1931 in Elizabeth Hospital, NJ. to Richard and Irene O'Rourke of Cranford, NJ..
She graduated from Cranford High School in 1948, then attended Limestone College in Gaffney, SC. After college she attended Barbizon Modeling school and had the opportunity to model furs for Bergdorf Goodman. During that time she also worked for her uncles, Bart Sr. and Walter, Sr, managing the office of the law firm of O'Rourke & O'Rourke, a workmen's compensation firm in the Emigrant Savings Bank Building across from City Hall on Chambers Street in New York City. She was proficient in stenography and shorthand, often representing the firm in court hearings.
In 1952, Jeanne was introduced to her future husband, V. Donald Hersam, Jr. at her parent's new home in High Bridge NJ by her cousin Walter O'Rourke, Jr. Don and Walter were both serving in the U.S. Navy at the Naval Air Station, Quonset Point RI.
Jeanne and Don's first date was March 31, 1954 in New York City where Don took her to see Victor Borge at the Golden Theater on 44th St. At that time, Don was on leave from the USS Hornet, an attack aircraft carrier, then in preparation for an 'around the world cruise' to serve in the Far East.
They resumed their romance upon Don's discharge from the Navy nearly a year later. A smitten Don had rushed back to her apartment on East 93rd Street between 3rd and Lexigington to request that they "go steady." Jeanne's response was, "That's high school stuff, Why can't we get married?"
The diamond was on her finger in two weeks on May 14, 1955, her father's birthday. They were married January 21, 1956 in St. Joseph's R.C. Church in High Bridge by The Rev. Cronan Kelly, OFM, of 34th St. New York.
They moved to Don's hometown of New Canaan. It was here that they built their life together and raised their four children.
Jeanne was a woman of great, Catholic faith and was an active member of St. Aloysius RC Church in New Canaan. She served as a Eucharistic Minister for many years, faithfully taking the Holy Eucharist to church members who were homebound. She also served Catholics in Norwalk and Silver Hill Hospitals. She was a graduate of the Education Parish Service program out of Trinity College, Washington, D.C., and also served the Parish Council of St. Aloysius.
She was a fixture in the New Canaan community, serving on the boards of the Chamber of Commerce, Woman's Club as well as volunteering with other local organizations. While with the Chamber of Commerce Jeanne was able to convince then Republican Connecticut Senator and Presidential Candidate Lowell Weicker to speak at a Chamber luncheon. "I agreed to speak only because Jeanne asked," he remarked.
Jeanne could also be seen at all of her children's school and sporting events.
Jeanne loved hosting guests at home in New Canaan and at their summer home on Square Pond's Treasure Island in Shapleigh, Maine. While she made it look effortless, she made every effort to ensure each guest felt welcome. She was happiest having her family and friends around her. "It's very important for us all to be together," she would often say.
When not in New Canaan, Jeanne could often be found on the links at Shorehaven Golf Club in East Norwalk. She was an excellent golfer and her skills were on display competing in many tournaments and in the awards she earned. She was also a member of the Women's Metropolitan Golf Association. She and Don traveled extensively while playing golf together. Sometimes with newspaper industry and banking organizations throughout the years, playing golf from Hawaii to Bermuda.
Jeanne and Don were an inseparable couple. They doted on each other with unwavering devotion. Their bond was a powerful combination of faith, family and golf. Each was a compelling reason to be doing something together — because they were always doing something together.
In later years, try as she might, her body would no longer allow her to play golf. However, she and Don could be seen together every day around 3 pm driving down to Shorehaven to see who was out on the course. They would finish their daily drive by going through downtown New Canaan to "see what was going on in town," often reporting back to her family about who she saw on the course and "how busy downtown New Canaan looked."
She will also be remembered by her family as a strong individual who soldiered through significant medical challenges over the years with barely a whisper of complaint. Always relying on her doctors and her powerful faith. Her motto was "get up and get moving, you'll feel better" and she lived that right up until it was finally her time to rest.
As a survivor of multiple cancers, she had great compassion for others who were newly diagnosed. She would quietly reach out to other women to let them know they were not alone and that good doctors, prayer and keeping a positive outlook were her way forward.
Her greatest joy in these last 30 years was doting on eight grandchildren. "Nana" relished any opportunity to have one, or all, of her grandchildren sleep over at "Nana & Poppy's." Her famous French Toast was always on the breakfast menu. She was never too busy to babysit or attend an event that involved her grandkids. She took great care to celebrate their every birthday, holiday, graduation and accomplishment with unbridled joy, a card or gifts.
In addition to her parents she was predeceased by her siblings Richard, Robert O'Rourke and Alice D'Arcy
She is survived by her husband and four children, Mary Anne and her husband Richard Vasko, John, Andrew, Martin and daughter-in-law Beth as well as her eight grandchildren Mary Kathrine Potter (Chris), Abigail, Elly, Merrill, Maren, Maggie, Tucker and Annie Hersam. Additionally she is survived by three step-great-grandchildren.
A mass of Christian Burial will take place will take place at 2 p.m., Saturday, November 13 at St. Aloysius RC Church, 21 Cherry St. New Canaan, CT.
The family will receive family and .friends one hour before in the narthex of the Church
Contributions to charities of one's choice would honor her memory.