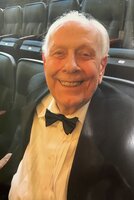 Lennart E. Henriksson
Born in Stockholm Sweden to parents Hillive Bellander and Hjalmar Henriksson .
His fondest memories of Sweden were of the days on his Aunt and Uncle's dairy farm. Hobbies included soccer and bicycling around the town, but he boasted that he always excelled in school and had a strong belief that education was paramount. He lived in a small apartment with his father for most of his youth- had a cot in the kitchen as his bedroom, but he said he never felt "poor" - this lifestyle of rationing foods and minimal living space seemed to be the norm.
At the age of 18 years old, Lennart immigrated to America . His aunt and uncle had made a home for themselves in Lancaster Pennsylvania in 1947 and in 1950, Lennart got on a boat and travelled alone to eventually join them.
While in Pennsylvania, he enlisted in the army . He spent time in Alabama and was eventually stationed in Germany for 2 years. With the benefits of Roosevelt's GI bill, Len was given the opportunity to attend university at a substantially low cost. With great test scores, he was proudly admitted and graduated in 3 years from the University of Pennsylvania .
His first job was with IBM and remained with IBM until he retired . He truly loved his years as a Financial controller/manager and he cherished the travel benefits.
At an Arthur Murray Dance studio he met Charlotte Parmer , a school principal , who eventually became his wife in 1955. He spoke of a wonderful marriage , until she became ill and passed away 11 years later.
IBM co-workers and friends introduced him to a beautiful widow, Pat (Quinlivan) Whelan . Len shared that at that very first meeting , Pat argued with him and he fell in love. Anyone who knew Len would understand this. He was a spirited fighter with a fondness for unfiltered uninvited sharing of opinions to get the party going! Len loved being married and so he spent the next 47 years with Pat, his Sunshine". As a bonus , Len became step dad to 3 children.
West Nyack in Rockland County was Pat and Len's first home together. The family moved to South Africa (I've Been Moved ) for the next four years with three children , shortly after the marriage. Len and Pat travelled the world together during those years.
In 1976 , they returned to the States and chose New Canaan, CT as their final earthly home. Once retired , Len volunteered and worked with Save the Children , spending a year with his wife, Pat , in Botswana .
The family grew from 3 step-children to 9 grandchildren and 4 great grandchildren. As they aged Pat and Len took turns taking care of one another until Pat passed away in 2015.
Lennart was forever grateful for his extended family and the last 10 years that he shared with a wonderful caregiver, Marina. Marina's kindness and patience and visits from her own family and grandchildren brightened his days and added joy and a sense of independence that he needed in his later years.
Lennart will be missed by his children : Barbara Whelan and fiancé Dennis Papa, Jim Whelan and his wife Amanda, Beth Ann Linell and husband Tom, his grandkids :Tricia Charise, Justin Charise and wife Christy, Christopher Charise, Patrick Whelan and wife Alicia , Jack Whelan, Ford Linell, Molly Linell, Kate Linell and Nicole Linell and his great grand-children: Austin Charise , Griffin Corbett, Ashley Charise and Maeve Corbett.
In lieu of flowers, please consider a donation
Visiting Nurse & Hospice of Fairfield County
Wounded Warrior Project