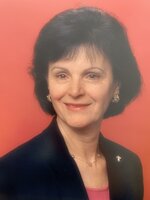 Silvana Sorbara
Silvana Sorbara, 80, of Stamford, CT, passed away peacefully on October 10, 2021 at home. She was born on June 2, 1941 in Calabria, Italy to the late Gino and Rosa Luca.
Silvana immigrated to the U.S. with her parents and five sisters and settled in Brooklyn, NY. She worked at William Raveis as a Realtor in Old Greenwich, CT. She enjoyed bowling, tennis, knitting, walking and reading. She loved to cook and travel. Her main joy was her eleven grandchildren and two great-grandchildren.
Silvana is survived by her three loving children: son Sal (Shannon) Sorbara, daughter Cathy (Ron) Wilson, and daughter Rose Sorbara; her eleven grandchildren who she adored: Amanda, Brandon, Lexi, Ali, Sami, Ryan, Hayley, Leia, Zaccari, Rocco and Carlo and her two great-grandchildren Henry and Charles, as well as other surviving family.
A visitation will be held Thursday, October 14, 2021 from 3:00 p.m. to 7:00 p.m. at the Hoyt Funeral Home 199 Main Street, New Canaan, CT. Words of remembrance will be held from 6:00 p.m. to 7:00 p.m.
In lieu of flowers, please donate to the American Diabetes Association in her memory.