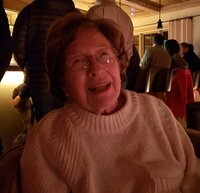 Ruth Ogden Carroll
Ruth Ogden Carroll, 96, of New Canaan, CT, passed away peacefully October 8, 2021, at Norwalk Hospital with her family by her side.
Ruth was born April 12, 1925, to Howard M. and Esther (Ahearn) Ogden in the family home on Ogden Rd. in New Canaan that stands nearly unchanged today. She spent many happy hours roaming the rural north end of town and passing time in her grandfather Stanley Ogden's shop on Lukes Wood Rd., where he had a furniture repair and chair caning business. Her father Howard ran the Blue Arrow Garage for many years, reportedly the first service station to sell gasoline in New Canaan.
Ruth told many tales of growing up in a far more rural New Canaan which seem like a distant fantasy given what the town has become, a change which she never failed to find both amusing and infuriating. She was a regular volunteer at the New Canaan Historical Society for many years, and was involved with the Sellecks Corners Cemetery Association all her life, working to preserve the cemetery and its 1851 chapel on Barnegat Rd.
Ruth married John Otis Carroll in 1967, meeting him while working as the secretary at the Silvermine Arts Center; the two remained happily married until his passing in 2010. Aside from a couple years in the wilderness (Greenwich!) when she was first married, Ruth spent her entire life as a New Canaan resident.
Her love for the natural world was a constant, remaining curious to the end. She got special enjoyment from the hummingbirds that frequented her feeder & flowers, and the bluebirds which would in a good year nest in the box in her backyard. Deer eating her shrubs and squirrels on the bird feeder remained life-long exceptions to this rule.
Ruth was always able to find the humor in a situation, sometimes to the befuddlement of others, her family included. She never tired of talking to strangers, often to their befuddlement as well.
Always a fan of convertibles, she had with reluctance given up driving her Miata some years ago, though she never abandoned hope that she would again one day get behind the wheel. When pulled over for speeding when well into her eighties and asked if she knew what the speed limit was, she replied "No, but it's obviously too low!" She got off with a warning.
She is survived by her two sons John Otis Jr. of Newcastle, ME and Ogden and his wife Lisa of North Stonington, CT, and her grandchildren Michael and Matthew, all of whom will miss her greatly.
The family is grateful for the support of Ruth's long-time aide Lily Twum, Staying Put in New Canaan, and countless others who made it possible for her to continue living at home, maintaining much of the independence which she cherished.
Family and friends are welcome to join her family at a celebration of her life at the Country Club of New Canaan on October 30 any time between 1 and 3 p.m.
Services and burial will be private.
Donations in Ruth's name may be made to the New Canaan Museum & Historical Society or The New Canaan Nature Center.